16 June 2004
Pressed and Ready
I've now completed (for the most part) TruePravda's migration to WordPress as its backbone content management system (CMS). I've formerly been using Movable Type, and though it's been good, I think WordPress will be better.
It took me a while to get everything transferred over, but it was actually kind of fun to learn a new system—and a better one at that! There are still a few little enhancements to be made—like automatically redirecting my old archive links to the new WP links. If anybody knows how to do this from MT 3.0D, I'm all ears.
Also if anyone is subscribing via XML please note the changes (and new opportunities! over in the righthand column). More blogroll changes coming soon, but I thought I'd go ahead and launch for now.
Pray for Paul Johnson
Paul Johnson, Jr., kidnapped in Saudi Arabia by al-Qaida needs all our prayers right now. Stop what you're doing and pray now.
15 June 2004
Pouring on the Heinz
Ideas are apparently a fashion faux pas these days, especially if you're Theresa Heinz-Kerry. Recent statements reveal that anger is more important in determining Heinz-Kerry's political stance:
Teresa Heinz Kerry says anger, not ideology, prompted her to become a Democrat. The wife of Sen. John Kerry, the presumptive Democratic presidential nominee, says her emotion stemmed from the way the Republican Party, to which she had pledged allegiance, treated Democratic Sen. Max Cleland of Georgia in 2002.
Republicans had attacked Cleland on a policy issue. Heinz-Kerry, never the ideologue, thought this was unfair because Sen. Cleland is a triple amputee. Heinz-Kerry thought this was reason enough to switch parties.
After all, a triple amputee can't stand up for himself physically, so how could Cleland have expected to defend his ideas? How dare the Republicans pick on this poor veteran and expect him to defend himself?
Heinz-Kerry's anti-idealism betrays her bias toward the handicapped. If Sen. Cleland had made it that far with his physical challenges, why would he not be expected to be treated like any other Senator? Does anyone really want someone who will change parties over one angry issue to be in the White House? Would she become a communist if democracy makes her unhappy?
Posted by Jared Bridges |
Permalink
|
Comments Off

on Pouring on the Heinz
14 June 2004
White Nights
James Panero is blogging from St. Petersburg, Russia, where the sun is up most all the night during the "White Nights" of June. St. Petersburg is one of my favorite cities to visit–I've been there twice in the month of June, and it really is eeire to be walking around at midnight in natural light. Panero also describes a visit to the Hermitage, which, in my opinion is an even better art museum than the Louvre. The Rembrandt collection there is captivating. Read parts one and two of his St. Pete accounts as well.
Posted by Jared Bridges |
Permalink
|
Comments Off

on White Nights
Enemies, Far and Near
Victor Davis Hanson has a must-read piece on NRO today:
Nearly three years after 9/11 we are in the strangest of all paradoxes: a war against fascists that we can easily win but are clearly not ready to fully wage. We have the best 500,000 soldiers in the history of civilization, a resolute president, and an informed citizenry that has already received a terrible preemptive blow that killed thousands.

Yet what a human comedy it has now all become…

…Aristocratic and very wealthy Democrats — Al Gore, Ted Kennedy, Howard Dean, and John Kerry — employ the language of conspiracy to assure us that we had no reason to fight Saddam Hussein. "Lies," "worst," and " betrayed" are the vocabulary of their daily attacks. A jester in stripes like Michael Moore, who cannot tell the truth, is now an artistic icon — precisely and only because of his own hatred of the president and the inconvenient idea that we are really at war. Our diplomats court the Arab League, which snores when Russians and Sudanese kill hundreds of thousands of Muslims but shrieks when we remove those who kill even more of their own. And a depopulating, entitlement-expanding Europe believes an American president, not bin Laden, is the greatest threat to world peace. Russia, the slayer of tens of thousands of Muslim Chechans and a big-time profiteer from Baathist loot, lectures the United States on its insensitivity to the new democracy in Baghdad.
Go read the whole thing. How much siding with our sworn enemy does it take before those who do become enemies themselves?
Posted by Jared Bridges |
Permalink
|
Comments Off

on Enemies, Far and Near
11 June 2004
The Ship of Fools…
…Makes a stop in Washington: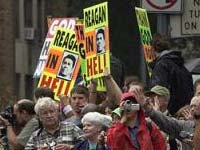 I hope these folks get a lot of publicity. I hope people recognize them wherever they go. I hope they remember that only in America are they allowed to display such buffoonery.
Posted by Jared Bridges |
Permalink
|
Comments (5)
10 June 2004
When the Church Meets the Stump
A New York Times article draws attention to recent legislation introduced by house Republicans to make it easier for churches to support political candidates. This is, of course, a red-hot political issue. It already has raised the ire of Democrats and other groups:
Although its chances of enactment are uncertain, Democrats and other critics of the proposal argue that its timing suggests that Republicans are trying to bend the tax rules in time to help the president's re-election campaign.

Last week, an effort by the campaign to enlist members of "friendly congregations" in distributing campaign information at their places of worship came to light in the form of a message e-mailed to some members of the clergy and other people in Pennsylvania, and legal experts warned that any implicit endorsement of one candidate over another could jeopardize a religious group's tax-exempt status.
The left-wing Americans United for Separation of Church and State has also raised concerns, which I find ironic. Why would a group that ostensibly fights for the separation of church and state be supportive of goverment (a.k.a. the state) suppressing the speech of churches?
I think that churches should not be hampered by the government in their speech, be it political or whatever. If Christians are to filter all of life through a biblical worldview, politics must come under scrutiny as well.
That said, I do not think that churches should endorse particular candidates–especially candidates who are not members of the particular church. When a church attaches its name to a particular individual, there is always the very likely danger that this individual will fail, thereby tarnishing the image of the church.
Churches should instead endorse ideas and policies that are compatible with a Christian worldview. This way, if the politician fails, the church can still stand behind the ideas. Besides, endorsement of Christian churches should fall upon only one individual: its cornerstone, Jesus Christ. He alone should be offered to the outside world as hope for a fallen world, and he alone is worthy of such endorsement.
Posted by Jared Bridges |
Permalink
|
Comments Off

on When the Church Meets the Stump
9 June 2004
Much to My Chagrin
…Oprah Winfrey, the queen of sappy, "you go girl" spirituality, has picked one of my favorite books for the ubiquitous Oprah's Book Club. Tolstoy's Anna Karenina has been chosen by the talk-show host as this summer's selection for her club. The book promptly rose to number one on the bestsellers list.
I guess this is good overall. Oprah is at least going to read it:
Winfrey vowed to "finish every page" of Anna Karenina. "And I'll be sending e-mails all summer long to keep you posted on how I'm doing and hopefully give you encouragement, because I believe we can do this.

"We can read the real literature of the world."
Just remember folks, the book made TruePravda's "Books that Haunt" list first.
Too Much Rather and Brokaw
TV newsreaders Dan Rather and Tom Brokaw think that there's too much coverage of President Reagan's death and memorial in the news:
"Once the herd starts moving in one direction, it's very hard to turn it, even slightly," Rather said. "Nationally, the herd has grown tremendously."
I'm not really sure which herd Rather is talking about. The fact remains, however, that while Dan would rather be out herding cattle five days a week, he's on TV every single night. Perhaps Dan Rather and Tom Brokaw are getting too much coverage themselves. Let the herd be heard: there's too much Rather and Brokaw.
8 June 2004
Eenie, Meenie, Miny, and the Bible
Discussing the practice of sortilege among early American settlers, Jackson Lears writes about a certain Christian reaction:
Christians condemned it, then went into competition by resorting to the Sortes Sanctorum–the use of the Bible as a means of divination, either by opening it to a random passage or rolling dice to choose chapter and verse.

This bibliomancy was never completely orthodox but almost always tolerated by canny Christian clerics who knew a way to accommodate popular magic when they saw one.
[Something for Nothing, p.31]
While we do not find much rolling of the dice to obtain Scriture guidance today, bibliomancy is rampant in churches today. Even those of us trained in how to study the Bible properly are tempted once in a while to just open the Bible and put our finger on a verse. There's little doubt if you've been in church long enough that you will have heard a testimony where God has spoken to someone by letting the Bible fall open to a certain passage.
Let me be clear that I do believe with Paul that all Scripture is God-breathed, and God may speak to someone through any portion of his word. This said, I think that the practice of bibliomancy can often be more dangerous than beneficial, especially in a culture like ours that elevates instant gratification over patient endurance.
The Bible was never meant to be used in a magical way. The classic example of this fallacy is the man who, looking for a word from God, opened his Bible at random. His eyes fell to Matthew 27:5, speaking of Judas, "And throwing down the pieces of silver into the temple, he departed, and he went and hanged himself." The man needed further word from God, so opened his Bible again, this time his eyes fell to the latter part of Luke 10:37, "You go, and do likewise."
Read the Bible, but read it in context. The benefit might not always be seen immediately, but it will be more full. Let us not turn the gift of the Scriptures into a magic tool of divination.
Posted by Jared Bridges |
Permalink
|
Comments (4)
---