20 September 2004
Expanding My Internet Use
Going back through Amazon.com's history in the "Your Account" section, I found that my first order was on Feb. 19, 1997. I ordered two books, The Gospel According to Mark: The English Text With Introduction, Exposition, and Notes (NICNT), and Between Heaven and Earth: Prayers and Reflections That Celebrate an Intimate God. It was my first ever online purchase, and I said a prayer as I hit the "submit order" button that my credit card would not be broadcast to the world.
Thankfully, my information was kept safe, and I received my order without delay. Since that fateful day, I've ordered plenty of items, books and otherwise, from various internet sites. It's easy, usually more economical, and you can cover ground more quickly than driving all over town looking for the item you want.
Lately, I've expanded my realm of internet purchases beyond books, clothes, computers, music, and bill paying to try some different internet options—namely ordering pizzas and movies.
Perhaps I'm behind the times, but I realized that I had never ordered a pizza online. I had an ad from Pizza Hut that highlighted its online delivery feature, so I thought I'd give it a shot. I quickly signed up for an account, and chose the location nearest me, and began to build my pizza. I liked the ability to choose different toppings for different quarters of the pie. I placed the order (you pay the driver when he comes, just like phone ordering), then waited for the approximate 56 minutes that the website gave me. Would it come? Yes. Was the order correct? It was. Will I do it again? I think so.
I also thought it would be neat to try an online movie service. There really aren't that many available yet, but I tried Movielink. The selection is pretty limited, but the drill is this: choose your movie, purchase and download. Once you hit the "play" button, you have 24 hours to watch the movie before it expires. As I said the selection is limited, but we ordered Charade, an excellent 1963 Cary Grant-Audrey Hepburn intrigue-suspense-romance. There is a special coupon that allows your first movie to be only $0.99. The download took about 45 minutes on my DSL connection, and you can begin watching when enough has downloaded already.
Overall it wasn't a bad experience. Keep in mind that you have to watch the movie on your computer, so those of you with big entertainment centers might want to pass for now. The only quibbles I had were that the site requires you use Internet Explorer, and the aforementioned minimal selection.
What's next? The sky's the limit, but I would be partial to pay-per-view NCAA Football Games online if they were offered. Major League Baseball has had it for a couple of years, so hopefully it's not too far down the road.
Posted by Jared Bridges |
Permalink
|
Comments (2)
Preaching for Profit
An eye-opening L.A. Times story sheds light on Trinity Broadcasting Network cheifs Paul and Jan Crouch (yep, he's the old guy with the bolo tie and she has the purple hair). Their doctrine is a health-and-wealth gospel, and it makes them lots of money:
Much as Ted Turner did for TV news, the Crouches have created a global infrastructure for religious broadcasting. But that is just one element in their success. Another is a doctrine called the "prosperity gospel," which promises worshipers that God will shower them with material blessings if they sacrifice to spread His word.

This theme — that viewers will be rewarded, even enriched, for donating — pervades TBN programming.

"When you give to God," Crouch said during a typical appeal for funds, "you're simply loaning to the Lord and He gives it right on back."

Though it carries no advertising, the network generates more than $170 million a year in revenue, tax filings show. Viewer contributions account for two-thirds of that money.
In addition making God out to be like your next door neighbor who comes over to borrow a post-hole digger, TBN's prosperity gospel is patently unbiblical. Giving isn't set out in Scripture as a tit-for-tat program, resulting in greater monetary wealth for the giver. Rather, wealth is found in the generosity itself (see 2 Cor. 8:1-15). Giving to God is not a loan, as he owns it all anyway (does one charge God interest to yield a higher return?).
It's just as frightening the type of disciples the Crouches are making:
Devoted viewers say the Crouches have nothing to apologize for. Indeed, the ministry's material success is part of its appeal to believers — proof that the Crouches enjoy God's favor.

"The fruit of God is on their life," said Tennille Lowe, a computer analyst in Phoenix City, Ala., who is in her 20s and watches the network every day. "If they weren't prospering, I'd say, 'Wait a minute. I don't see any evidence [of God's blessing] in their life.' "
The last time I checked, the "fruit of God" consisted of some quite different apples:
But the fruit of the Spirit is love, joy, peace, patience, kindness, goodness, faithfulness, gentleness, self-control; against such things there is no law. [Gal. 5:22-23]
Mere monetary success could be just as indicative of a swindler as a saint ("how hard it is for the rich to enter the kingdom…"). Tell Jeremiah, a prophet who went through no small amount of angst at the behest of God, that a life of luxury is the only life for the servant of the Lord.
I'll be interested to see if this article causes any fallout at TBN, given the recent revelation that Crouch paid off a former employee $425,000 to hush allegations of a gay tryst with Crouch.
Posted by Jared Bridges |
Permalink
|
Comments (4)
19 September 2004
It's Campaign Circus Time!
Senator Kerry is scheduled to appear on David Letterman Monday night. Perhaps he's going to be part of Letterman's sketch "Is This Anything?"
Whatever it is, Kerry's upcoming appearances on Letterman, Regis & Kelly, and Dr. Phil are sure to be a bore. It is even reported that the Bushes will appear on Dr. Phil as well.
Is the degeneration of American politics at hand? Perhaps not—it isn't like CBS news would be a better forum for political discussion…
Posted by Jared Bridges |
Permalink
|
Comments Off

on It's Campaign Circus Time!
A Game for the Ages
Vols 30, Gators 28
On a night that was supposed to be all wet due to the remnants of a hurricane, the remnants of a rivalry were gathered instead as Tennessee and Florida's stormy relationship culled into what was arguably the greatest game in the recent history of the series. Down to the gut-wrenching wire, it was a game where a new era was begun.
Freshman Erik Ainge gained the poise of a veteran and hit his receivers when it counted. Starting QB Brent Schaeffer didn't look bad either, and I think the secret is now out that Tennessee is deep in the QB position. James Wilhoit's missed PAT and redemptive game-winning 50-yard field goal showed that this Tennessee teams possessed a depth of character as well.
I hate the Gators, but I love to see the Vols able to recover from mistakes against an unforgiving Florida offense. The outlook is good for Rocky Top this year—if we don't blow it. Kevin Simon's injury could be very costly for the defense. Only time will tell…
It's football time in Tennessee!
17 September 2004
Frozen Humanity
A recent AP piece dealing with the burgeoning problem of what to do with the extra frozen embryos used in in vitro fertilization (IVF) procedures is downright spooky. Consider the actions of some clinics:
The reverence that some clinics gave to the task surprised researchers at the University of Pennsylvania and Rutgers University.

Seven clinics said they performed a quasi-religious ceremony, including a prayer, for each embryo they destroyed.

Seven others took the technically unnecessary step of culturing the cells in a lab dish, then allowing them to multiply on their own, briefly, before they perish.

Four insisted that, whatever method was chosen for disposal, the patient be present when it happens. Others barred them from being in the room, or recommended that they be uninvolved.

University of Pennsylvania bioethicist Arthur Caplan said the survey results, published last month in the journal Politics and the Life Sciences, show that the clinics have a level of moral sensitivity unrealized by the public.

"I don't think anyone who deals with these frozen embryos considers them to be persons," Caplan said. "But I think that they feel they are deserving of respect … They see the potential for life in this material."
It's bizarre that clinics would go through such an antic as performing a "quasi-religious ceremony" (whatever that means). It is, however, very telling in that it reveals how confused people are on what to do with human life at such stages. One would not expect what appears to be—for all intents and purposes—a funeral to be held by the very ones who would facilitate the funeral's need.
The article does point to some who have a little more moral understanding of what it means to freeze human embryos:
Dr. Vincent A. Pellegrini, a fertility doctor in West Reading, Pa., said he wrestled with the issue for two years before deciding that destroying surplus embryos would be akin to "throwing away human life."

"It just wasn't an option," Pellegrini said. "Once we have a dividing embryo, it is human material I can't discard."

The policy poses an additional burden for patients. It requires that the clinic sometimes implant more developing embryos in a woman's body than they generally need to ensure a successful pregnancy, meaning that the women carry an increased risk of having twins, triplets or quadruplets.

Pellegrini said some patients decide to go elsewhere because of his policies. But he also attracts some patients who share his views.
I suppose that it is good that at least some of the clinics are wrestling with the question. If, after all, one holds to the belief that life begins at conception, it follows that an embryo is a human being in the earliest stages of development. Whether frozen or discarded, the descruction of human life (not material) is just that—the destruction of human life.
[see also Albert Mohler's recent columns on IVF storage: Part One and Part Two]
Posted by Jared Bridges |
Permalink
|
Comments Off

on Frozen Humanity
16 September 2004
FireFox 1.0 PR
From the folks at Mozilla, the FireFox 1.0 Preview Release is out, and so far,I like what I see. The "live bookmarks" feature can turn your brower into an RSS reader, which is quite handy. Also, when browsing secure sites, the address bar is highlighted in yellow with an additional security icon.
Those are the only changes I've noticed from .93, but if you're still using the featureless, insecure Internet Explorer, I'd recommend changing now.
Posted by Jared Bridges |
Permalink
|
Comments Off

on FireFox 1.0 PR
Always the First
Dan Rather wants to be the first to break the story that the Bush National Guard documents are forged:
"If the documents are not what we were led to believe, I'd like to break that story," Rather said in an interview last night. "Any time I'm wrong, I want to be right out front and say, 'Folks, this is what went wrong and how it went wrong.' "
Heh heh.
14 September 2004
Al Gore's Day Off
From stuffing his clothing, to Ronald Reagan-style makeup jobs, to the mountain-man look, Al Gore has changed his appearance as often as John Kerry changes his position. His latest look seems to be that of Ed Rooney, the evil school principal from Ferris Bueller's Day Off. Compare:

Ed Rooney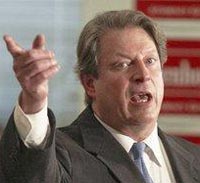 Angry Al Gore
I report, you decide. After all, I'm just a guy in his pajamas…
13 September 2004
Give In To Your Hatred
For 51 weeks out of the year, TruePravda is all about love, sweet love. But this is the week where love is thrown to the wind (Hurricane Ivan needs all the love he can get, eh?) and hatred rises in full force. Yes, I'm talking about hatred of the University of Florida Gators (not to confused with crocodiles).
This Saturday, September 18, the Tennessee Vols host the Gators, who were defeated handily at the Swamp last year by the team from Rocky Top. It's time to hate the Gators early, hate the Gators often, and hate them with passion. If you've forgotten the many reasons for Gator Hater Week, read Colby Willen's summary of the UT-UF rivalry. If that doesn't do it, you've probably already converted to the dark side anyway.
Go Vols!
Credibility , Caveat Emptor, and the Blogosphere
The whole Rathergate scandal with the forged documents regarding Bush's National Guard service reminds me of how similar the free flow of information is to free markets. In the old media, information and subsequent analysis of information flowed through only a handful of sources.
The advent of the blogosphere has now given rise to countless challengers to the old media. While the old media has time, experience, and position in its favor, the only thing that keeps the blogosphere from becoming a quixotic failure is its veracity. If a blog offers forth falsehood, it has little else going for it—the percieved stability of the old media doesn't help a bad blogger.
There is always the danger, of which the blogosphere must be vigilant, that the new media might be used as a pawn by the power brokers of the day. Certain false information might be leaked to several blogs just as easily as forged documents are leaked to Dan Rather. Hence bloggers must be careful not to rely on their position as the new media.
The good thing, however, is that now all media, new and old, are falling prey to the doctine of caveat emptor. Formerly, the power and position of the old media went unchecked. After Rathergate, the old media must now answer to the checks and balances of the new.
Posted by Jared Bridges |
Permalink
|
Comments (2)
---