18 November 2004
In My Mind Spurrier's Gone to Carolina
Can't you just see the sunshine? It looks like Steve Spurrier, the "evil genius" of college football will be going to South Carolina on his next stop. Will USC become Tennessee's next heated rivalry? Will Spurrier resurrect Steve Tanneyhill, mullet and all, to head the Gamecocks offense? Ahh…the SEC!
Posted by Jared Bridges |
Permalink
|
Comments (1)
Re: Design
Welcome to version 3.0 of TruePravda! After staring at the three-column layout for eight months or so, I've decided to go back to two columns. I think the simplified layout is easier to read, less cluttered, and better looking. I'll probably do a few touch-up enhancements, but overall I'm pretty satisfied.
I've extended the layout over more of the site. The navigation links at the top lead to all newly-styled pages. I've moved most of my non-blog links to the "links" page—so everything is still intact. I've also included a colophon to tell more about the technical aspects of the site and added an archive for the "On the Side" miniblog.
Anyway, I hope you like it. Feel free to leave feedback, and if you just can't stand it, you can still read the three-column version here.
Posted by Jared Bridges |
Permalink
|
Comments (4)
16 November 2004
Please Do Not Discard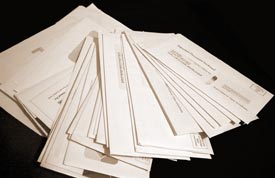 In recent days, the mail that reaches our household has been full of one genre of snail mail: the credit card offer. The above stack consists solely of credit card offers collected in our box since the week of July 20. They're all unopened, and in mint condition.
There are about 45 pieces (at $.37 ea, that's over $15), most from the lovely town of Wilmington, DE. If we had accepted all the offers, our credit line could buy a new, full-time writer for TruePravda. Each envelope contains dated material, and demands to be opened immediately. Many are duplicates, but CitiBank leads the charge with 12 separate pieces.
Hmmm—I wonder how many I would get in a year…
Posted by Jared Bridges |
Permalink
|
Comments (2)
13 November 2004
The Appearance of Wisdom
I happened to find myself today in a furniture store. After all, aren't furniture stores where the lost go to be found? Well, philosphical musings aside, I noticed something rather peculiar among the bookshelf section of the store.
One particular shelf held about 20-30 beautiful leatherbound volumes. I noticed a sign saying "old world books—$24." I approached, wondering what literary treasures might be found in a furniture store, of all places. As I began to inspect the books, I found that all were written in Swedish. Pages upon pages of "bork! bork! bork!"
While Louisville may be considered the melting pot of Kentucky (Hoosiers are everywhere, and I think there are a couple of Ohioans down the street…), I don't think that there is a large Swedish contingent in residence. So what, pray tell, was the purpose of the two rows of Scandinavian shelves?
The only conclusion I can come to is that the store expects that non-Swedes who wish to enjoy full bookshelves will buy the beautiful leatherbound editions at 24 bucks a pop. Shelves full of bork give the appearance of a vast library.
While I have no bork on my shelves, I'll admit to having a little pork in my library. There are various editions of Bibles—all technically the same book, yet they take up half of a shelf. There are several books I have duplicates of which remain shelved. There's even a stray copy of The Prayer of Jabez (a book given to me as gift because I lampooned it so).
All this simply goes to show that nearly every person's library contains books they haven't read. The problem with the Swedish "filler books" is that aside from the buyer taking a crash course in the Svensk dialect, these books don't have a prayer of being read. And this, dear reader, is a shame.
Has our culture come to the point where one must pay $24 to put bork on the shelf in order to appear educated or well-read? What would the Swedish Chef have to say about this?
Posted by Jared Bridges |
Permalink
|
Comments (2)
11 November 2004
Trophy Children?
Consider the following two statements. The first is from Sarah, 91 years old, after delivering her firstborn son:
And Sarah said, "God has made laughter for me; everyone who hears will laugh over me." And she said, "Who would have said to Abraham that Sarah would nurse children? Yet I have borne him a son in his old age."
Compare with what Aleta St. James, who will be 57 years old this week, had to say after giving birth to twins:
"A lot of people may think I am selfish or crazy or whatever," St. James said Wednesday. "Well, I'm a little bit crazy. I've never lived in the box. I just say if you have a dream, if you put your mind to it and don't listen to other people's negativity, you can really do incredible things."
Both statements are remarkably similar—after all, both were post menopausal women who gave birth long after their expected time. Yet there is a significant difference in the two statements that is quite telling. Sarah's incredulity is that God has done this for her. Ms. St. James's is just proud she did what she set her mind to.
Granted, St. James did give credit to God, while simultaneously stressing her own achievement. She said, "This is the most incredible thing I've ever done in my life. This is a miracle that God blessed me with."
It's difficult to question St. James' decision, especially after it has turned out so successfully—who could say that these two wonderful children shouldn't have been born? Nevertheless, we must question St. James decision to become pregnant at 56. Because our redemptive God often brings good out of the bad doesn't negate the fact that the bad was bad in the first place. Unwed teenage parents should rejoice in the birth of their child, yet at the same time lament the decisions that brought about the pregnancy in the first place. We mustn't focus on just the end result.
Examining what little we know of Ms. St. James, it isn't difficult to conclude that this was a bad decision. She is a single parent who will be 75 when the children turn 18, and she is well past childbearing age (she conceived via IVF using donor eggs). I'm no physician, but it doesn't take a medical degree to know that children carried by a 56 year old mother are at great risk of not surviving the pregnancy. By all measurable standards, it seems a foolish undertaking.
Why, then, did Ms. St. James and others like her attempt such a thing? The answer, I think, lies in how our society has come to view children. If we merely view children as something that makes our lives complete, we will do almost anything to achieve the completion of our lives. Children, however, are much more than that. They are beings created in the image of God—not just our image. Consideration for them must be given before capitulating to the "black magic" of our age. Though technology may someday enable octogenarians to bear children, ability does not equal should. Should, it seems, is the absent question in our time.
Posted by Jared Bridges |
Permalink
|
Comments (3)
A Salute to the Vets
A hearty Veteran's Day salute from TruePravda goes out to all the American veterans of past and present wars. What have done and are doing has liberated, protected, and inspired all that we hold dear as Americans. May God grant his protection and blessing to you, whether you're on the battlefields of Afghanistan and Iraq, or in the cubicle down the hall.
Thanks from one who is grateful.
Posted by Jared Bridges |
Permalink
|
Comments Off

on A Salute to the Vets
9 November 2004
Beaten Like a Rented Mule
Although I didn't watch him this time on principle, Dan Rather apparently had a good night of one-liners on election night 2004. Among them:
"In southern states they beat him like a rented mule."
"We had a slight hitch in our giddy up, but we corrected that."
"We need Billy Crystal to Analyze This"
The election is "closer than Lassie and Timmy"
Read the whole list. Rather should really consider stand-up comedy, as the "fake but accurate" style of journalism just didn't work out for him.
Posted by Jared Bridges |
Permalink
|
Comments Off

on Beaten Like a Rented Mule
Land of the Free…
…stuff, that is. If you're not a subscriber, now's the time to check out The Wall Street Journal Online Edition, which is free all this week.
Also, the Firefox browser turns 1.0 today. As I've said before, if you're not browsing the web with Firefox, you're missing out. Of course, seeing as how slow their website is crawling right now, you're probably already downloading it.
Posted by Jared Bridges |
Permalink
|
Comments Off

on Land of the Free…
8 November 2004
Election Relief
Lots of good things to read on the web this week, now that the major political events of the autumn are over. The fall issue of The New Pantagruel is out, as is the latest installment of Comment. Also be sure to check out The Matthew's House Project, a new web-zine that "seeks to develop a place in which the intersections of faith and culture can be explored."
Russell Moore has also returned with observations on the "hobbit people" and the stir it is creating among the evolutionist community. I picked up Dr. Moore's new book, The Kingdom of Christ: The New Evangelical Perspective, this weekend. It looks to be a good evaluation of how kingdom theology affects Christians in the public square. Can't wait to get into it.
Posted by Jared Bridges |
Permalink
|
Comments Off

on Election Relief
7 November 2004
Red States and Redneck Inbreds
As the Europeans still shake their heads at the blind stupidity of us backward redneck Americans who voted for Bush, Mark Steyn righty observes:
And, if Americans do "hate abortion", is [Mirror columnist Brian Reade] saying he loves it? It's at least partially responsible for the collapsed birthrates of post-Christian Europe. However superior the EU is to the US, it will only last as long as Mr Reade's generation: the design flaw of the radical secular welfare state is that it depends on a traditionally religious society birthrate to sustain it. True, you can't be a redneck in Spain or Italy: when the birthrates are 1.1 and 1.2 children per couple, there are no sisters to shag.
Crude, but true. It's amazing to see just how blind post-Christian Europe seems to be to the legacy unadulterated secularism. They're losing population amidst advancing Islamic influences and they look at the Americans as if we're backward.
Truth be told, the U.S. isn't far behind Europe in its cultural bereavement. If the support for values indicated by this election are not anchored in something more than communitarian mandates, it will be short-lived. This is where Christians must be the vanguards in anchoring our morality in the transformation that comes with the gospel.
Merely talking (and even voting) about "family values" has little effect if we do not as a society know how to live. Morality must be powered by the gospel of the risen Jesus Christ. As the apostle Paul wrote, "the kingdom of God does not consist in talk but in power." [1 Cor. 4:20]
Posted by Jared Bridges |
Permalink
|
Comments Off

on Red States and Redneck Inbreds
---