30 December 2005
Best of 2005
A few of my bests for 2005:
Best Novel: Marilynne Robinson's Gilead. It's one of a kind and should not be missed. I've been promising my review for quite some time, and I assure you, it will be posted here not too far into the new year.
Best Nonfiction: Nancy Pearcy's Total Truth: Liberating Christianity from Its Cultural Captivity. It's an important book that would behoove every Christian to read. I didn't find so many new ideas in this book as I did a beneficial synthesis of ideas and history pertinent to Christianity today. Pearcy aptly takes on the way evangelicals look at their faith and shows how we often live in two worlds where we should be living in one.
Best Movie: I only saw two movies at the theater this year — a new personal record for cinematic absenteeism! It was as good a year as any to be away from the cinemas. I did catch Christopher Nolan's Batman Begins on DVD and was duly impressed. It's the best of the Batman series and actually had a little depth to the action. It's a not typical "best" pick for me, but it was the only movie I watched twice all year. And no, I haven't yet seen the Narnia film.
Best TV Show: I'll have to go with Lost. I got the DVDs of season one for Christmas, and after seeing the first few episodes, it already gets my nod for the best. I also watched and was impressed by season one of 24 this summer, but that's a 2001 show, so it doesn't count. Prison Break was also pretty interesting. I've continued to watch last year's fave, House, but I fear the show is becoming stale because each episode is just like the other.
Best New Software: Macromedia (Adobe) Dreamweaver 8. I'm still pretty much a hand-coder when it comes to websites, but DW8 design mode is pretty sharp for getting a good idea of what your CSS layout will look like.
Best Tennessee Football Moment (not that there were that many): The comeback from being down 21-0 in the LSU game. In fact, this was the only great Tennessee football moment this year.
Best Radio Talk Show: Bill Bennett's "Morning in America." All betting aside, it's the most even–tempered, faithfully conservative, thoughtful show on the radio.
Best Comment Left At TruePravda: This really would fall more into the "astonishing" category than best, but it would have to be a recent comment left by a 2008 presidential candidate in response to my post about him.
Best Quote: "Ball…Ball…Ball…Ball…" — my son. It's one of the few words that he says, and he's passionate about it. The first thing he does when he wakes up is to look for a ball. If it weren't an NCAA violation, we would have already secured a sports agent for him.
---
Happy New Year to everyone. The posting drought here at TruePravda is expected to dry up soon. As always, thanks for your readership.
Posted by Jared Bridges |
Permalink
|
Comments (3)
22 December 2005
God Incarnate
As the disciple whom Jesus loved put it so eloquently:
The true light, which enlightens everyone, was coming into the world. He was in the world, and the world was made through him, yet the world did not know him. He came to his own, and his own people did not receive him. But to all who did receive him, who believed in his name, he gave the right to become children of God, who were born, not of blood nor of the will of the flesh nor of the will of man, but of God.

And the Word became flesh and dwelt among us, and we have seen his glory, glory as of the only Son from the Father, full of grace and truth. [John 1:9-14, ESV]
Merry Christmas, and may the knowledge of the Word become flesh dwell in your heart and your house this holiday.
Posted by Jared Bridges |
Permalink
|
Comments Off

on God Incarnate
21 December 2005
Christmas Shopping as Cultural Experiment
I'm the type of person who likes to make the best of a bad situation, and Christmas shopping presents limitless opportunities for me to do so. How do I turn shopping with the masses into something enjoyable? By donning my cultural anthropologist hat and making other shoppers the subjects of observation. Here's what I noticed this year:
At the mall, the population is about 20% seasoned shopping vets, and 80% fish out of water. I fall headlong into the latter category. Most of the seasoned shoppers finished last month. That leaves men shopping for their women.
The store personnel are likewise fish out of water. Many of the employees are temps, and many of those are simply family members of the full-time employees. They're dressed awkwardly and sometimes can be mistaken for fellow shoppers. Expect no help from them other than to point you to the cash register. They do not know if they have the item you're looking for. They can help you look, though.
Don't wear anything even remotely red if you're shopping at Target. Unless, that is, you want to have some fun. In that case I would suggest you sport a red polo and an attitude. And no, I've never done this. Never.
Cashiers can go into intellectual meltdown if you refuse to give them your personal information. See my experience from two years ago.
Stay clear of the "kiosk" section of the mall if you don't want to be approached and handled. I had to fight off one girl who tried to rub lotion on my hands because I knew what the Dead Sea was when she asked me. Or something like that. Kiosk vendors are malls' equivalents to the guys who try to wash your windows in downtown parking garages without your approval and then want you to pay.

There's lots of "sneaky sneaky" going on. I found it funny how often I would overhear someone's phone conversation to a relative asking about gifts. "Don't let your mom know that I'm on the phone asking about this," was common conversation.
See there, even Christmas shopping can be a little fun, if you know what to look for. Those of you waiting until the very last days should take an extra large notebook for your cultural analysis — just don't forget to get your gifts in the meantime!
Posted by Jared Bridges |
Permalink
|
Comments Off

on Christmas Shopping as Cultural Experiment
13 December 2005
I See Dead People
Pardon the Seinfeldian expression, but what's the deal with all the corpses on television these days? It's almost as if sex stopped selling, so now cadavers are all the rage. Just flash a semi-decomposed body on the screen and the viewers will flock.
Shows like Bones, CSI, CSI: Miami, CSI: New York, CSI:Mayberry, Law & Order (take your pick), and Criminal Minds all have their own versions of the "morgue scene." In the morgue scene, the helpless and apparently odorless corpse lies exposed to the world while the cops wax not-so-eloquent above them. Meanwhile, the camera zooms inside and around their dead body.
Dead people, everywhere. And that's just on network TV. It almost makes you want to ask, "Who will deliver me from this body of death?"
12 December 2005
Mere Evangelicalism?
There's a helpful discussion over at Mere Comments on the nature of evangelicalism. First, a post from S. M. Hutchens, and a response/follow-up from Russell Moore.
Hutchens rightly identifies some of the problems within evangelicalism as a movement. Moore follows up, pointing out how viewing even viewing evangelicalism as a corporate movement is problematic. A person does not become an evangelical so much as they become a Christian — even more particularly, a member of a specific local body of believers.
I think this is one of the reasons the media has such a large problem dealing with evangelicalism. They tend to paint too many particularities with a broad brush, and end up muddling the whole portrait. It hasn't taken long to have everybody from Benny Hinn to Fr. Richard John Neuhaus is being lableled evangelical. The term evangelical is thus rendered meaningless, and the media might as well just substitute "churchgoers."
Posted by Jared Bridges |
Permalink
|
Comments Off

on Mere Evangelicalism?
10 December 2005
The Earlybird Gets the Worm(wood)
Now that the dust has settled an inch thick on the 2004 U.S. presidential elections, it's never too soon to be looking to 2008. Democrat hopefuls like Hillary Clinton are busy polishing their image and exploratory committees. Republicans are trying to sorting out just who can follow in W's footsteps. Pundits everywhere are forecasting like mad.
Some candidates for 2008 have sidestepped all the speculative hoopla by registering early with the FEC. Take Jonathon "The Impaler" Sharkey, for example. His early registration lists him as an independent associated with the The VWP Party (Vampyres [sic], Witches, and Pagans). Sharkey, also known as "The Dark Count," has also thrown in his hat for the 2006 Minnesota Governor's race. Among his qualifications:
He is a Hecate Witch, as well as a Satanic/Sanguinarian Vampyre….He was recently Ordained as a Dark Priest, and is studying to become a Hecate High Priest.

…Jonathon's first "Spell" ever, was a "Death Curse." Though Jonathon is very pleasant to be around, he is a follower of the "Dark Side" of "The Craft." His powers and abilities are unmatched!
I know what you're thinking — that Sen. Clinton's CV is strikingly similar. I assure you, however, that "The Impaler" seems above (or should I say, below) plagiarism.
Posted by Jared Bridges |
Permalink
|
Comments (5)
9 December 2005
A Theology of Home
They say you can't go home again. In my case, it would be trespassing.
You see, my parents have sold the house in which I spent my adolescence. I helped them move over Thanksgiving weekend, and there was much work to be done. Hard work calls for hard thinking, and as I emptied out my old bedroom, I found my thoughts drifting toward the concept of home.
I had always thought of home as being independent of place. When you've moved more times in the last thirteen years than you have fingers on your hands, it's a helpful notion. Home, we tell ourselves, is "where the heart is," and is found "wherever you lay your head." Even Jesus told a potential follower, "Foxes have holes, and birds of the air have nests, but the Son of Man has nowhere to lay his head."
How then, given that we humans can make a home out of almost anywhere, should we regard place? Is it merely incidental to our larger concept of home? I think not.
If we look at it theologically, we see that particularity of place plays a big part in the concept of home. True, Jesus had no place to lay his head, and poor Paul traveled too much to even tend to his unibrow, but this doesn't mean that the Bible regards place as irrelevant.
After all, if place had no value, why was God so adamant that Israel go in and take a particular piece of land in Palestine? Jerusalem (both the new and old) certainly has immense theological significance, as does Bethlehem and Babylon. Like our lives, the Bible doesn't happen in a vacuum. The storyline of Scripture takes place in real, concrete places.
What then, are we to think of the particular places in which we live our lives? I think that texts like this one give us a clue:
By faith Abraham obeyed when he was called to go out to a place that he was to receive as an inheritance. And he went out, not knowing where he was going. By faith he went to live in the land of promise, as in a foreign land, living in tents with Isaac and Jacob, heirs with him of the same promise. For he was looking forward to the city that has foundations, whose designer and builder is God. [Hebrews 11:8-10, ESV]
The homes we have in this life cause us to look forward. That is not to say that our earthly homes are not good in their own right. The places we inhabit are good, but their imperfections point us toward something better yet. Good homes remind us of greater things.
Therefore I think it is appropriate to miss a good home. After all, those of us who follow Christ are infected with a homesickness that will only be cured by his unveiling. While I won't be snooping around my old house anytime soon, I will remember it as a place where I learned to look forward to a place to come.
Posted by Jared Bridges |
Permalink
|
Comments (2)
7 December 2005
A Day That Shall Live in Infamy
Lest we forget, today is Pearl Harbor Day, when in 1941 the United States was attacked by Japan in a devastating blow that brought America swiftly into the Second World War.
I once asked my late grandfather about Pearl Harbor. He had served in the U. S. Navy there a year before the attack and had many shipmates who didn't survive. If I remember correctly, he had served aboard the USS Utah, which went down in the bombing. At the time of the attack, my grandfather was out of the military. Rather than whining and wondering what the U.S. had done to provoke such an attack, Cecil Bridges re-enlisted into the U.S. Army. That's what Americans did back then.
Let us not forget.
Posted by Jared Bridges |
Permalink
|
Comments Off

on A Day That Shall Live in Infamy
4 December 2005
Around the 'Sphere
~ Volume XVII ~
---
Are you swimming in a sea of objectivity? That might not be such a good thing when it comes to scholarship. Charles Halton, who is quite the scholar in his own right, contends that bias isn't necessarily a bad thing:
I want to be a biased scholar. Furthermore, I want to read works from biased authors. Throw objectivity out the window, I have no use for it because it's bad for research.
Personally, I'm biased toward Halton's work, so read the whole thing and decide for yourself.
---
Another scholar, one Albert Mohler, has posted about the decline in people playing musical instruments, both in the culture at large and in the church. He cites a Charles Rosen article that examines the replacement of performed music with pre-recorded tunes. The rise of recorded music has had a dramatic effect on the amount of music people perform themselves when compared to times before 1900. Mohler observes:
An even greater problem is the effect of all this on congregational singing. Church members, especially the young (and especially young males), have so little experience singing or participating in the production of music in any form that they know only how to listen, not to sing. In one sense, churches that buy into the culture of canned music are setting themselves up for silence in the future. Who will be left to sing?
About the only places I know of where non-professional musicians sing are churches, karaoke bars, and baseball games. Even the film adaptation of The Lord of the Rings edited out almost all of the countless songs and singing of the hobbits. Singing has become counter-culture for those without a recording contract.
I hereby resolve to sing more. Don't worry, earplugs are on the house.
---
If you're like me, and the perennial "let's boycott stores that say 'Happy Holidays' instead of 'Merry Christmas'" talk has left you weary, you'll appreciate Tom Ascol's post on the matter:
Isn't it interesting where we evangelicals often choose to draw battle lines with the world? We take personal offense when retailers make marketing decisions that have absolutely nothing to do with biblical standards of morality and yet heartily support them when they blatantly violate biblical standards. The Bible says nothing about Christmas–either as a special day to be observed or a term to be included in marketing (for the record, I do celebrate Christmas, but not because I think I am biblically obliged to do so). So, why should Christians be exercised when retailers don't advertize "Christmas" specials?
Interesting indeed. Read it all.
---
The Rough Woodsman's "Swamphopper" tells of an encounter with novelist John Grisham where he picked up some good advice for disciplined writing:
Among the many comments, most notable was his advice to budding authors: nothing replaces discipline. Even when he was still working full-time as an attorney, Grisham committed to writing at least one page a day. He continued the discipline through his second novel as well. Most writers he knows give the same advice. Find a time and place that becomes your daily routine for consistently completing a page a day. Sometimes it may mean twenty minutes of writing; other times, it may mean two hours. If one commits the time, he'll have a book full of writing at the end of each year.
Sounds like good advice, but right now I have a hard time averaging one blog post per week. How elusive is discipline!
---
Technically, this last item has little to do with the blogosphere, but technically this is my blog, so I'll write about it here anyway. It's called Pandora, and it's a new, free, internet radio application that chooses songs automatically for you based on the style of and artist or song you choose. For example, I chose "God Rest Ye Merry Gentlemen," selected the Mannheim Steamroller version, and Pandora picked a wide selection of instrumental Christmas songs and played them to me.
I know, I know, recorded music…
3 December 2005
Helter Skelter
In the absence of football news to report this weekend, let's turn our attention to the wonderful world of celebrity gossip. It seems that "shock rocker" Marylin Manson (whose real name is Brian Warner) has married his longtime girlfriend Dita Von Teese (whose real name is Heather Sweet). Here's a photo of the happy newlyweds: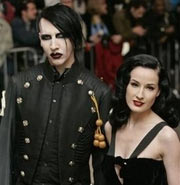 That's Marilyn there on the right — or is it the left? Well, the jury is still out on that one, but we here at TruePravda wish them the best.
---