31 March 2005
We Like 'Em Fast, and We Like 'Em Orange
My alma mater has had great influence in the world of high-powered computers. I love news stories that open with paragraphs such as this:
Big orange and white cabinets that will form one of the world's fastest supercomputers for open science research are arriving at the Oak Ridge National Laboratory.

The high-performance units are part of a new Cray Corp. XT3 supercomputer, nicknamed "Jaguar," that could be reaching record speed before year's end.

Nine cabinets arrived Monday, bringing the total to 20, and there could be another 100 on the way in the months ahead.

The orange and white color scheme is no accident. They are the school colors of the University of Tennessee, which jointly manages the Department of Energy facility with Battelle Memorial Institute.
See—we Vols aren't just about football.
Posted by Jared Bridges |
Permalink
|
Comments Off

on We Like 'Em Fast, and We Like 'Em Orange
28 March 2005
Burger King Gives Atkins The Finger, While Wendy's Gives It To Customers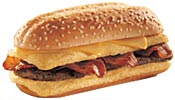 Breakfast has always been one of my three favorite meals of the day. Now it's in the running for top meal all by itself. Burger King, in an attempt to bite its thumb at the cult of dieting, has introduced its new, 730 calorie, Omelet Sandwich. I can't wait to try one on the way to the gym tomorrow morning.
Meanwhile, in other much-reported news, Wendy's has taken a more human approach to their menu.
Posted by Jared Bridges |
Permalink
|
Comments (4)
25 March 2005
What's Good About Good Friday?
Long before the birth of Jesus, the prophet Isaiah had this to say about him:
Surely he has borne our griefs
and carried our sorrows;
yet we esteemed him stricken,
smitten by God, and afflicted.
But he was wounded for our transgressions;
he was crushed for our iniquities;
upon him was the chastisement that brought us peace,
and with his stripes we are healed.
All we like sheep have gone astray;
we have turned every one to his own way;
and the Lord has laid on him
the iniquity of us all.
The good, of course, is found in the grace of God in putting the wrath which we deserved upon his undeserving son. The crucifixion—an act of extreme violence—turns out to be the act of extreme mercy. I deserve wrath. You deserve wrath. Christ took it upon himself. Let us reflect upon the mercy of the cross today.
24 March 2005
Mass Manipulation
S. M. Hutchens has some good thoughts on television and the mass media:
I have found that many people who have to maintain their minds at top form have an intuitive dislike of having them manipulated by the organs of the mass media, which they find not only stupid, but having a drug-like quality that does something they don't like to the efficiency and quality of their own thinking. It's hard to explain, but it's an opinion I have found that people like us share.
Read the whole post. Mass media does ineed have an addictive quality. I find that once I've begun watching television, a sort of chain-smoking-like quality sets in. I end up watching the next show that comes on, and the next, until my entire evening is consumed. While I don't think that chucking the idiot box out the window is the only option, I do think that most of us could use much more moderation in our television viewing.
Court-Appointed Murder
I haven't weighed in on the Terri Schiavo matter on this blog, due largely to the fact I've been preoccupied with things other than the blog. I think, however, that an issue like this deserves to commented on—even if my position echoes countless others. Sadly, the media focus has confused many into thinking that Terri Schiavo is terminally ill, as evidenced by this post, where I left a comment.
Terri Schiavo is not terminally ill. She is not on life support. This is not the stereotypical "when should we pull the plug?" situation that we all dread the thought of.
Terri Schiavo is brain-damaged. Like every single one of us, Terri Schiavo does require food for sustenance. Her condition renders her unable to eat, thus the need for the feeding tube.
Terri's husband, who only remains her husband by letter of the law (he is an adulterer who currently lives with the woman with whom he has fathered two children outside of his marriage—oh the consequences if she were to recover!), will inevitably get his wish—that Terri will be starved to death.
John Rabe says it best:
There is one Christian position on this issue. Period. If you have trouble wondering what the hubub is all about, or if you sympathize with Michael Schiavo's position, you've got some serious homework to do if you profess to be a Christian.
Denying food to the weak has no place in Christian practice.
Posted by Jared Bridges |
Permalink
|
Comments (10)
18 March 2005
Follow-Up on iWorld
Douglas Kern writes a follow-up to the Andrew Sullivan "iPod article" which I commented on a while back. Ostensibly, Kern disagrees with Sullivan, but then, ends up agreeing for the most part. At least that's how I read it.
Posted by Jared Bridges |
Permalink
|
Comments Off

on Follow-Up on iWorld
The Vocal Ignorant
Victor Davis Hanson on those who label Bush as Hitler:
So what gives with this crazy popular analogy — one that on a typical Internet Google search of "Bush" + "Hitler" yields about 1,350,000 matches?

One explanation is simply the ignorance of the icons of our popular culture. A Linda Ronstadt, Garrison Keillor, or Harold Pinter knows nothing much of the encompassing evil of Hitler's regime, its execution of the mentally ill and disabled, the systematic cleansing of the non-Aryans from Europe, or mass executions and starvation of Soviet prisoners. Like Prince Harry parading around in his ridiculous Nazi costume, quarter-educated celebrities who have some talent for song or verse know only that name-dropping "Hitler" or his associates gets them some shock value that their pedestrian rants otherwise would not warrant.

Ignorance and arrogance are a lethal combination. Nowhere do we see that more clearly among writers and performers who pontificate as historians when they know nothing about history.
Well said. Why is it that the most vocal people tend to be the most ignorant?
15 March 2005
Beware the Ides of March
11 March 2005
Keanu Reeves Translation Contest
In the comments section, leave your translation of Keanu Reeves' unitelligible statement in a recent interview regarding his new movie Constantine:
Q: What are your notions of heaven and hell, eternal damnation vs. eternal bliss?

Reeves: Well, I hope I get the bliss. And I know I'm going to have to work for it. But I've got to say, really, I have no kind of, can I say "secular religiosity"? … I don't have a denominational sight. I think, like in the stories that we tell, there is an aspect of the living life informing where we go. A transfiguration, there must be. Energy can't be created or destroyed, and energy flows. It must be in a direction, with some kind of internal, emotive, spiritual direction. It must have some effect somewhere. … I do think there must be some kind of interaction between your living life and the life that goes on from here.
If you have any earthly idea what our boy Keanu is saying here, please enlighten the rest of the internet. The winner will be announced on the Ides of March and will be awarded the accolade of Interpretus Extraordinarius.
UPDATE: The time for judgment has arrived—see comments below for the winner.
Posted by Jared Bridges |
Permalink
|
Comments (6)
9 March 2005
Cavity Emptor
If, as James tells us, the tongue is a fire, then the tooth must certainly be its kindling. After all, what other part of your body is so small that can cause such trouble?
For the first time in seven years, I went to the dentist today. That's right: seven years. It wasn't as if I arbitrarily decided that 2005 would be a Jubilee year for my teeth—I went because an old filling had fallen out about a year and a half ago. As you might have guessed, I'm a little slow.
I had a crater in that tooth the size of a small quarry. I could never seem to eat enough to ever fill its abyss, so I thought I'd visit my local dental practitioner. The dentist office is the subject of much fear and loathing, to borrow a phrase from the late Hunter S. Thompson. There are drills, picks, needles and countless other instruments that would look just as at home in a medieval torture chamber as they do sitting on the tray that floats above that vinyl-covered recliner.
Those tools of teethery have never scared me. Not one bit. My nemesis has always been the dreaded and obligatory DENTIST OFFICE LECTURE. You know the one I'm talking about. It's the one where they give you that stern look and proceed to tell you that you should be brushing eight more times per day than you normally do and that you should floss hourly. Then, as if you're not already feeling small enough, they ask you the dreaded question, "It's been how long since your last visit?"
I knew that last question would undo me, so I went in expecting the worst. Then something amazing happened. No lecture! I was cordially ushered immediately to the instruments of destruction, and an hour later, my tooth was repaired, my lip was numb, and I was off. I may just have to start doing this more often.
Now let's see…it's been a while since I've had a hair cut…
---