6 April 2005
Changing Names
From time to time, you'll meet a person whose name can only be a detriment to their success. The Ima Hoggs and I.P. Freelys of the world are rare, but when we do meet one we wonder at how parents could be so naive as to name their child in such a fashion.
On the other hand, there are those who change their own names for stage or authorship reasons. Samuel Clemens becomes Mark Twain. Louise Veronica Ciccone becomes Madonna. Paul Hewson becomes Bono. It's a common enough practice, but what if you don't like your stage name?
Rap "artist" C-Murder apparently does not like his stage name. He feels somehow misunderstood:
Rapper C-Murder, in jail after a murder conviction in the 2002 killing of a teenager, has changed his stage name because he thinks he's been misunderstood. "I am not a murderer," the rapper, whose real name is Corey Miller, said in a statement released Tuesday.

He will now go by C Miller, said his publicist, Giovanni Melchiorre of New York-based Koch Records.
It's all just one big misunderstanding. Uh huh.
Posted by Jared Bridges |
Permalink
|
Comments Off

on Changing Names
Stop Firefox Pop-ups
It was only a matter of time before the intrusion-style advertisers figured out a way to circumvent Firefox's pop-up blocker. I noticed pop-up ads showing up on Drudge a while back, after not seeing a single pop-up in the two years I've been using Firefox. Apparently Drudge and other websites have been exploiting a feature of Flash to launch the ads.
Now, it's back to the drawing board for the exploitationists. C-Net is reporting that a new Firefox extension is available to patch the mechanism that allows for Flash pop-ups. I just installed the extension and it worked beautifully on Drudge.
UPDATE: After about a day of using this extension, I've reluctantly turned it off. Don't get me wrong, the extension does impeccably well against stopping pop-ups. The problem is that it stops all pop-ups, even the ones you explicitly ask for. When I found I couldn't even open links which spawned new windows, I knew I was in trouble. Hopefully there will be a more customizable extension available in the near future.
Posted by Jared Bridges |
Permalink
|
Comments Off

on Stop Firefox Pop-ups
5 April 2005
The More Things Change…
…the more they stay the same. I've finally returned to some of those books I started last year but for one reason or another never finished. One of these is David McCullough's John Adams, which is such a pleasantly interesting read I wonder how I ever put it down in the first place.
Some things are indeed timeless. Writing about Abigail Adams' time in Paris, McCullough notes:
The whole French way of life seemed devoted to little else but appearances and frivolity, everybody bent on a good time, going to the theater, to concerts, public shoes and spectacles. She wondered when anyone ever did any work. In London she had seen streets swarming with people, but there they appeared to have business in mind. Here pleasure alone seemed to be the business of life and no one ever to tire of it. Not even on the Sabbath was there pause… (p. 304)
Over two-hundred years later, little has changed. Although France has finally abolished its mandatory 35-hour workweek ("workin' nine to four, what a way to make a living"), it still faces many hurdles in implementation. They'd better watch out, lest they be working more than the Germans…
Posted by Jared Bridges |
Permalink
|
Comments Off

on The More Things Change…
4 April 2005
The Diet of (Book) Worms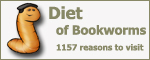 Book-reviewer extraordinaire Tim Challies has just launched a new site devoted to book reviews appropriately titled The Diet of Bookworms. Looks like a place I'll be visiting frequently. Read about the launch here. Nice job, Tim.
Posted by Jared Bridges |
Permalink
|
Comments (1)
3 April 2005
March Showers Bring April Photos
It's about that time for a new round of newborn photos to keep the relatives at bay, so here goes:
Continue reading…
Posted by Jared Bridges |
Permalink
|
Comments (4)
---