14 November 2005
Man v. Machine
If you're a chess geek, or a wanna-be chess geek like me, I recommend the DVD Game Over: Kasparov and the Machine. It's a documentary of the 1997 controversial rematch between world-champion grandmaster Garry Kasparov and IBM's "Deep Blue" computer.
Kasparov handily defeated the supercomputer in 1996, but in '97, Kasparov lost the match in six games. The controversy stemmed from the fact that the computer appeared to play more like a human than a machine — even making errors that wouldn't be expected from a machine. IBM's mysterious secrecy, denial of a rematch, and Kasparov's bizarre mental breakdown under pressure turned what began as a friendly "experiment" into an intrigue-filled contest.
What's amazing is that even if IBM didn't cheat by secretly using human intervention, the fact remains that humans actually had to program the machine to play against Kasparov as an opponent. That is to say that we can't even attempt to replicate the human mind without a human element to do the replicating. Logically, it seems impossible that we could create something smarter than ourselves. I'm no humanist, but I do believe that humans are the pinnacle of creation, made in the image of God. Not even humanity can improve upon that.
Posted by Jared Bridges |
Permalink
|
Comments Off

on Man v. Machine
13 November 2005
Around the 'Sphere
~ Volume XVI ~

It's morning again in the blogosphere, as blogging has now resumed at Le Sabot Post-Moderne! Discoshaman has hit the ground running, with ruminatinos on the viability of multiculturalism, and rumblings of a new sub-blog focusing on War on Terror news.

Terry Mattingly writes about the upcoming Johnny Cash biopic and notes that the movie apparently misses his spiritual conversion due to the brief period covered by the film.
Mattingly also reminds me that I really need to pay a visit to the Carter Fold when I visit my hometown sometime in the near future. It's a shame to have lived so close for most of my life but never went.

If you've ever worked in an office, you undoubtedly can relate to the cartoon Dilbert. Now, its creator, Scott Adams, is now blogging at The Dilbert Blog.
I've often wondered if there were anyone else in the world who had thoughts go through their head that were as wacky as mine. After reading Scott Adams, I wonder no more. Check it out for some hilarious refreshment.

You've heard of metrosexuals, but Matt Hall identifies a new group on the rise he dubs "metrospirituals." Read his post for a good discussion on a surprising new face of consumerism.

One of the best new English translations of the Bible is the English Standard Version (ESV). Their website is hands-down the best internet-friendly bible resource, as it is quite blog-developer friendly. On their blog, they point to new, likewise wonderful resource for biblical study, zhubert.com.
Zack Hubert's site has a number of original-language resources, including both Greek and Hebrew searchable texts, all for free. Could something like this put Bibleworks and other programs out of business? Not immediately for sure, but it will be tough for them to compete against the free stuff in the future.

Finally, a technical note: if you're a blogger and you use WordPress, be sure to check out the new Akismet anti-comment spam plugin. I've used it for a couple of weeks now as my sole anti-spam measure, and it's reduced my spam by 80% versus the other measures I was using.
It's a bit of trouble due to the fact that you have to get a WordPress.com blog to get the API key, but it's well worth the hassle.
Posted by Jared Bridges |
Permalink
|
Comments Off

on Around the 'Sphere
12 November 2005
A Tiger by Any Other Name
The rumor out of Knoxville is that people had a hard time giving away their tickets to this homecoming game. Turns out that the season ticket holders who gave away their seats missed one of the greatest comeback wins of the season (I saw this with my toungue decidedly in cheek). The only problem is that it wasn't that great a comeback against a team that's even less great.
Yes, the Vols did win, and I'm happy about that. Yes, I am worried about, ahem, Vanderbilt. No, I'm not even considering Kentucky at this time.
Posted by Jared Bridges |
Permalink
|
Comments Off

on A Tiger by Any Other Name
9 November 2005
Say UNCLE!
For the first time, I am an uncle! Congratulations to my brother Ryan and his wife Anya upon the birth of their son Samuel Bridges. May the Lord bless him and keep him, shine his face upon him, be gracious to him, and give him peace. [Numbers 6:24-26]
I hope I get to meet him soon. Now if only I can become his rich uncle…
Posted by Jared Bridges |
Permalink
|
Comments (2)
6 November 2005
A Good Dog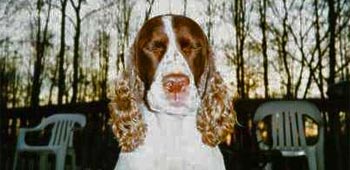 Molly, 1990-2005 R.I.P.
In the spring of 1990, my family took a trip to Tazwell, Virginia in response to a newspaper ad for English Springer Spaniel puppies. There were many to choose from when we arrived, but I pointed out one particular dog who had walked far away from the others to relieve herself. That's the dog we want, I thought. We inspected her closely and found her to our liking. We brought her home.
Like any dog, Molly had her idiosyncracies. She barked at airplanes, chased squirrels, and even ate vegetables whenever she could obtain them. She often made uncanny talking sounds, as she never quite understood that she wasn't a human like the rest of us. When my brothers and I had kitchen cleanup duties, we'd always let Molly in first to clean the floor. She'd leave it spotless every time.
My father, who fancies himself a Spanish speaker (of the "I took two years in high-school" sort), had a feeding routine with her that consisted of him asking her in Spanish if it were time to eat. She'd then get very excited, run over to her dish, and bark in a Pavlovian frenzy before being "freed" to eat.
About a decade ago we had a major squirrel problem at our house. They were eating wires in our cars, getting into the attic, and multiplying quicker than rabbits. The Bridges boys, Dad included, had declared war on the local squirrel population, liberating them from their lives with our RWS airgun. I once shot one from my bedroom window, and it fell from the tree. Molly instantly ran over to the squirrel, picked it up in her mouth, and pranced around the yard with it as if it were her prize. She then proceeded to eat the whole thing, bones and all. The next day, we took her to the vet for intestinal problems.
She had a penchant for cornering other animals as well. I once shot an opossum a dozen times with the aforementioned pellet gun that Molly had cornered in the backyard. Molly also cornered a 4 ft. long angry black snake and suffered at least one wound until Mom rescued her with nine shots from — you guessed it — the same pellet gun. There's even a photo to prove it.
Molly was a kind dog, both playful and lazy. She'd always be glad to see me when I came home from college or wherever else in the world I had been. In recent years I only saw her a handful of times on visits home. Last Friday, after weeks of slowly starving herself to death, Dad performed the odious yet necessary task of taking her to the vet to be put to sleep. She will be missed, but the memory of Molly the Brave will live on.
Posted by Jared Bridges |
Permalink
|
Comments (1)
5 November 2005
Our Lady (of Sorrows)
Vols 21, Fighting Irish 41
The television shot of the game came after one of the 20 fourth-quarter points scored by Notre Dame. The camera focused on Phillip Fulmer. Gone was the Fulmer who expresses disappointment by clapping his hands and gritting his teeth in a smile–like grimace. This time, the camera found the winningest active football coach clutching his knees, slumped over, head down — the new face of Tennessee football.
For a little while during the game — just a little while — Tennessee football emerged from the gray skies of South Bend. The Vols were passing, and catching the football. The red zone was entered and not just a touchdown, but a two-point conversion! Was another "Miracle at South Bend" in the works?
Enter reality. Reality in the form of funny names like Samardzija and Zbikowski, who played for a decent, but not great Notre Dame team. Coaching shakeup or not, the Vols were ill-equipped to mount a substantial comeback.
Unfortunately, "ill-equipped" has been the defining adjective for the entire season. My only hope is that the players don't cash in their chips now and call it quits. The names Memphis, Vanderbilt, and Kentucky take on a whole new meaning when you're three and five.
Pick yourselves up, Volunteers. It's November, and there's no Citrus Bowl to worry about. I'll still be wearing my orange when the Tigers, Commodores, and Wildcats take the field, will you?
Posted by Jared Bridges |
Permalink
|
Comments Off

on Our Lady (of Sorrows)
---