23 March 2006
Red Letter History
The ESV Bible blog has posted an interesting history of the use of "red-letter" editions of the Bible, in which the "words of Christ" are printed in red text to be set apart from the rest of Scripture.
I wrote here about red-letter Bibles a couple of years ago, aguing against the practice. While the ESV Blog's history shows that the origins of the practice may not be as nefarious as I suspected, I still think red-letter editions can cause us to misread Scripture by giving artificial weight to certain passages over others. Read my full post regarding the matter here.
Posted by Jared Bridges |
Permalink
|
Comments (1)
Double Negatives
Setting aside for a moment the subject of the story, the mere wording of the headline of this article seems a bit ridiculous:
"Clinton vows to block bill criminalizing illegal immigrants"
Doesn't the fact that we have to have a bill to criminalize illegal immigrants make our immigration situation seem all the more absurd? If we're not careful, we'll be having to criminalize all illegal activity before long.
Unless, that is, someone makes criminalizing illegal activity illegal…
Posted by Jared Bridges |
Permalink
|
Comments Off

on Double Negatives
14 March 2006
Headlines
Contrary to what today's front page might say, my project funds are doing just fine, thank you very much.
Posted by Jared Bridges |
Permalink
|
Comments Off

on Headlines
Hats Off To Honda
Dear Honda,
When my 1993 Accord's front end crumpled like tissue paper as I struck head-on the pickup that pulled out in front of me on Sunday, my hopes of taking the vehicle over the elusive 180,000 mile mark were summarily ruined. This was indeed a lofty goal, but I'd take a totaled vehicle any day over the alternative. Thankfully, I walked away with only a sore neck.
Good safety design deserves much applause, and I heartily offer mine. I and my family thank you.
Sincerely,
Jared Bridges
Posted by Jared Bridges |
Permalink
|
Comments (1)
11 March 2006
Ronald H. Nash, R.I.P.
News is circulating about the death Friday of philosopher Ronald H. Nash. I had the privilege of taking two of Dr. Nash's classes when I was in seminary: Introduction to Philosophy, and Worldview Analysis. He was by far one of the most memorable teachers I've ever had, and consequently one of the most effective — I can still recall some of his lectures verbatim.
He was full of those idiosyncrasies that make a great professor. He did a mocking hip-shake whenever he spoke of an outlandish liberal idea. When speaking of the charlatans of our time, he was not afraid to name names and speak on a wide variety of ideas (economics government were especially helpful). I once heard someone call him the "Rush Limbaugh of Christian philosophy." A more apt title would have been to label Limbaugh the "Ron Nash of talk radio." Nash was a tour de force.
Dr. Nash commuted from his home (a labor of love for Nash — he certainly didn't do it for the money or frequent flyer miles) in Florida to teach the classes I took, so the lectures were held once every two weeks for 6 hours at time. It was a brutal undertaking to cover so much material in one shot, but somehow Dr. Nash made it bearable (his exams, which routinely exceeded the allotted exam time by an hour, were somewhat less bearable).
In class, Dr. Nash usually expressed contempt for falsehood, yet he often choked up when speaking of the Truth of the gospel. He was a man obviously moved by Christ. He will be missed and remembered fondly. If you're unfamiliar with Ronald H. Nash, check out one of the many books he left behind.
9 March 2006
They Just Won't Leave it Behind
One Left Behind novel wasn't enough, so the creators made about a dozen sequels and two movies. That wouldn't do, so now there are at least two prequels on the market.
What's next, you ask? Newsweek reports that the Left Behind: Eternal Forces video game is due in the second half of this year:
The game revolves around New Yorkers who are "left behind" after the rapture. Players scour the streets for converts, training them into a work force to feed, shelter and join a paramilitary resistance against the growing forces of the Antichrist.

Left Behind Games CEO Troy Lyndon, whose company went public in February, says the game's Christian themes will grab the audience that didn't mind gore in "The Passion of the Christ." "We've thought through how the Christian right and the liberal left will slam us," says Lyndon. "But megachurches are very likely to embrace this game." Though it will be marketed directly to congregations, Forces will also have a secular ad campaign in gaming magazines.
Yeah, sounds like loads of fun. I'm not much of a gamer, but I'd take Call of Duty or Medal of Honor any day over this. My prediction: the game will belly-flop harder than the Left-Behind movie and the remaining unsold copies will mysteriously vanish.
What's more disconcerting than an inane video game is Troy Lyndon's notion of the megachurch as a market.
8 March 2006
Teachers & Teaching: Introduction
Most of us at some point in our lives will be called upon to teach something. It may be as complex as being a professional educator, or as simple as teaching someone how to tie a slip-knot. Whether it's Sunday School or how to make sundaes, we all end up imparting knowledge to others in some manner or another.
This post marks the introduction to a new series here at TruePravda exploring the nature of teaching and learning. Much of the discussion will be anecdotal, drawing upon my own experience as both a receiver and distributor of education. I'll also explore several modern approaches and issues concerning today's educational scene. I have a vague agenda and no timetable, although my initial plan is to post weekly on the subject.
I know that many of you who read this blog are educators, and I welcome your interaction and insights. Your first stop, however, will be to go read Charles Halton's writings on teaching. Halton is an innovative thinker on the matter, and I'm sure we'll interact with his ideas here. Stay tuned.
Posted by Jared Bridges |
Permalink
|
Comments Off

on Teachers & Teaching: Introduction
7 March 2006
Bonds' Stock Goes Down
It's a sad day for baseball. On the heels of the news of Kirby Puckett's death, what we've always suspected about Barry Bonds now seems to be overwhelmingly exposed. Bonds' years of maniacal performance-enhancing drug use has now been exposed by San Francisco Chronicle reporters Mark Fainaru-Wada and Lance Williams.
Worse than the news that my 1986 Topps Traded Barry Bonds rookie card will soon be worthless is the fact that yet another of the modern-day "greats" has proven to be a sham. It's not just a baseball problem either. The behavior of many of the American Olympians at the Turin Games makes one wonder if there are any athletes left who know the meaning of sportsmanship.
Posted by Jared Bridges |
Permalink
|
Comments Off

on Bonds' Stock Goes Down
Politics, Photoshop, & Foolery
If you judge your world on the basis of images, reality can be a fuzzy thing. The old maxim, "a picture is worth a thousand words" doesn't always apply in an age where a picture can have a thousand altered pixels.
The other day a mailing arrived from my Kentucky State Representative. It was a standard constituency mailing that included a survey of issues, a letter, and the refrigerator magnet/calendar below: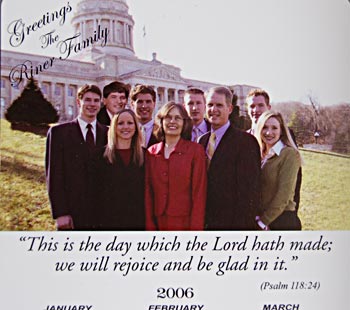 In the letter, the Representative tells of how he reimburses the state each year from his own pocket for office supplies. On its own, it's a noble gesture — it saves the taxpayer the price of $20 staplers and the like, and I hope he continues the practice. The letter did not say, however, whether or not he paid for his own Photoshop work for his family photo. If he did, he paid too much.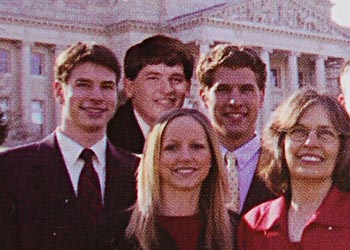 Notice how one of the Rep.'s children (I presume) seems to absorb the light rather than reflect it like the rest of the gang. It's a classic example of a Photoshop job gone awry (it's even more noticeable on the calendar itself).
When I was in college, I missed driving back home for a church directory photo to stay and watch a Tennessee football game. My mother didn't think that was such a good excuse, and she might have even had me Photoshopped into the picture if the technology was available. I paid for that one for quite a while, and may have even been slighted a piece of pumpkin pie that Thanksgiving.
My guess is that this kid was unavailable for the family photo, so someone thought it wise to make it appear as if he were there. While this isn't that big a deal in the grand scheme of politics, it does belie the fact that we think it so easy today to create our own alternate realities. Why not just put his photo in an inset? It seems that here, as in many other venues, the appearance of order trumps reality.
Since one bad Photoshop deserves another, I thought I'd offer the family something to draw the attention away from their Photoshopped son: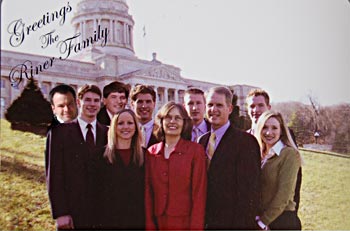 6 March 2006
The High Price of Freedom
At the time of this posting, this is currently on the Louisville Free Public Library website: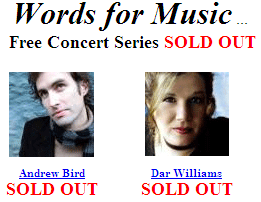 Yes, I know, semantics. But still…
Posted by Jared Bridges |
Permalink
|
Comments Off

on The High Price of Freedom
---