31 December 2007
Best of 2007
Continuing the tradition this blog from 2004, 2005, and 2006, I give you my best from the seventh year of this millennium:
Best Novel (read in 2007): Walker Percy's The Second Coming. As I've described him before, Percy is like Dostoevsky with wit. The Second Coming is a novel about a rich, middle-aged man (who may or may not be going crazy) and his encounter with an escaped mental patient who has already been down the crazy road for quite awhile. All of this craziness leads up to, in typical Percian fashion, unparalleled sanity.
Best Nonfiction Book (read in 2007): Dick Keyes' Seeing Through Cynicism: A Reconsideration of the power of Suspicion. Cynical that this is the best? Read my review.
Best Misguided Book (read in 2007): Donald Miller's Blue Like Jazz is funny, well-written, and Miller makes many valid, salient points. However, the author's constant brooding and elevation of doubt to the status of virtue transforms a potentially groundbreaking book into little more than faddish whimsy.
Best Movie: Like last year, I only made it to one in-cinema movie. My favorite DVDs of the year were Sophie Scholl: The Final Days, Apocalypto and Amazing Grace, which is comparable to Chariots of Fire for those of us who work in the political realm.
Best TV Show: 2007 will be known as the "Year In Which Television Went Down the Drain." With striking writers having to take real jobs just to make ends meet, it's been a pretty lousy year in the television industry. So, my best of this year is a toss-up. The Office is hilarious — when the episodes aren't an hour long. I'm a fan of Lost, but episodes of the show seem to be living up to its name — only eight episodes will appear in 2008. The Discovery Channel's Man vs. Wild is thoroughly entertaining, if not all that good for the appetite. House continues to be one of the smartest (read sarcastic) show on the air, and is unafraid to venture into difficult subject matter. These are all, of course, shows I mentioned last year, which must mean that 2007 was so 2006.
Best Science News: The research of Dr. Shinya Yamanaka which shows how induced pluripotent stem (iPS) cells can behave like embryonic stem cells should put an end to embyro destructive stem cell research. It's monumental news, and politicians who supported destructive research should see this as a way out of the unethical research battles.
Best Underappreciated Web App: The Google Browser Sync is handy little tool which syncs your Firefox bookmarks across multiple computers. The days of having to compile separate bookmarks for all the different computers I use are history.
Best Software: My friend Joe Carter introduced me to Lifehackers' Texter application, and now I can hardly do without this boilerplate text macro. Check it out for yourself if you do any html coding.
Best Quote (campaign 2008): Howard Dean: "and we're going to California and Texas and New York. And we're going to South Dakota and Oregon and Washington and Michigan. And then we're going to Washington, D.C., to take back the White House. Yeeeeeeaaaaaaaghhh!" — Howard Dean. Nevermind, that was 2004.
Best Quote (overall): When visiting a church while traveling, the lively pastor began a loud, boisterous rant during the sermon. My three year-old son, who is new to listening to preachers, looked at the preacher, then turned to me and remarked (aloud): "He's silly!" I don't know if his comment or my subsequent laughter caused more trouble.
28 December 2007
Reading the greatest book ever written in a year's time
Every other year, I read through the entire Bible. In 1996, I decided that if the Bible was indeed the word of God, it might be helpful to read all the words that God gave to us. It was one of the better decisions I've made in my life. The first time I did it, I wondered how long I would make it (I had failed a few times before), and surprised myself by finishing on schedule. I've done it every other year since then, and it's something I hope to continue doing every other year for the rest of my life.
Through the years, I've used a variety of reading plans. I've twice read the New International Version (NIV) of the One Year Bible. I've also used D. A. Carson's For the Love of God (vols. 1 &2) — a helpful, thoughtful devotional which uses the Robert Murray M'Cheyne Bible reading plan. I've used the M'Cheyne plan twice with the New American Standard Bible (NASB), and twice with the English Standard Version (ESV).
For 2008, I've decided to read the ESV's Daily Reading Bible plan. It's inexpensive, and since the text is not hacked up, it can serve as a "regular" Bible. I ordered a paperback copy of the Bible from Monergism Books for less than $10 — it's inexpensive, has an excellent text layout, and is lightweight. When I don't have the book with me, the ESV's web service is unparalleled. You can get your daily readings via RSS, sent to your Google calendar, or even to your mobile device (from time to time I read it on my Blackberry).
It's not as difficult as you might think. It only takes around 15 minutes a day (steal it from your television news watching time). Make it a part of your day like brushing your teeth. Don't go to bed without reading the text.
If you're already a believer in the Word made flesh, you've little excuse for not being familiar with the whole written word of God. If you're not a believer, this is an easy way to become familiar with the book that has been most influential in the pages of history, and in the hearts and minds of countless lives.
Read with me in 2008. You can start here on the first of January.
Posted by Jared Bridges |
Permalink
|
Comments Off

on Reading the greatest book ever written in a year's time
27 December 2007
2007 in places
With a new baby and an in-town move limiting my 2007 movements to a more local sphere, I slept in fewer cities this year than any in recent history:
Kingsport, TN
Tupelo, MS
Washington, DC
Woodbridge, VA
Posted by Jared Bridges |
Permalink
|
Comments Off

on 2007 in places
26 December 2007
[Link] Ken Myers on the Incarnation
Ken Myers of Mars Hill Audio Journal offers some profound reflections on the Incarnation (PDF).
Posted by Jared Bridges |
Permalink
|
Comments Off

on [Link] Ken Myers on the Incarnation
25 December 2007
Joyeux Noel
Let's not forget this Christmas that the babe in the manger now sits on a throne, that the gentle child is a warrior king who commands vast armies, and that he fights that we may rest in him. The God who is incarnate is making and will make all things new. As he told the serpent in the garden:
"I will put enmity between you and the woman,
and between your offspring and her offspring;
he shall bruise your head,
and you shall bruise his heel."
[Genesis 3:15, ESV]
May that Enmity indeed deliver us. Merry Christmas!
17 December 2007
A Major Award
Seen in my neighborhood: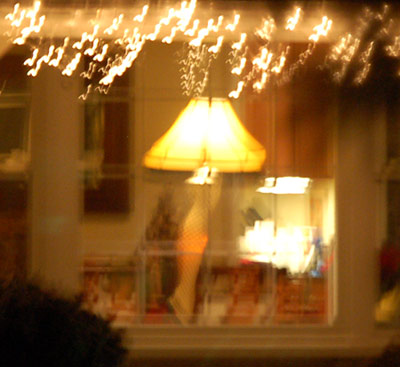 Excuse the blur — the line between discretion and good photography when you're standing behind a tree snapping shots of your neighbor's house at night is thin. I'm not cut out to be among the paparazzi.
In case you've lived under a rock for the past 25 Christmases, the lamp is indeed a "major award" from the classic 1983 film A Christmas Story. You can get your own here.
Posted by Jared Bridges |
Permalink
|
Comments (3)
4 December 2007
Losing our souls for self
This observation by Eugene H. Peterson is noteworthy:
We live in a culture that has replaced soul with self. This reduction turns people into either problems or consumers. Insofar as we acquiesce in that replacement, we gradually but surely regress in our identity, for we end up thinking of ourselves and dealing with others in marketplace terms: everyone we meet is either a potential recruit to join our enterprise or a potential consumer for what we are selling; or we ourselves are the potential recruits and consumers. Neither we nor our friends have any dignity just as we are, only in terms of how we or they can be used.

Christ Plays in Ten Thousand Places: A Conversation in Spiritual Theology, p. 38
Indeed.
We in the West excel at marketing commodities, and how natural it is for us to treat people as commodities as well. As the self has replaced the soul, we have become a culture populated, dominated, and interested in selves. Because the self is, after all, so very much more selfish than soul.
Posted by Jared Bridges |
Permalink
|
Comments (2)
[Link] The Allure of Tyranny
The Allure of Tyranny: Russians voted away their freedoms, and Venezuelans almost did. Bret Stephens takes a look at the perplexing preference for the tyrannical.
Posted by Jared Bridges |
Permalink
|
Comments Off

on [Link] The Allure of Tyranny
1 December 2007
Hot-lanta too hot for Vols
Ten years ago — nearly to the day — I headed down I-75 with my college buddies to watch Tennessee take on Auburn in the first SEC Championship game to be played in Atlanta. It was Peyton Manning's final conference game, and I gathered together my meager savings and bought a new orange Adidas "power-T" heavy sweatshirt. I burned up in the Georgia Dome that night, but the Vols managed to burn down the Auburn Tigers.
Fast forward a decade. Different location (my living room in Virginia). Different Tigers (some teams in the SEC aren't all that original). Different winner. The only similarity between today's game and the 1997 SEC Championship was that yours truly wore the same sweatshirt.
To their credit, the Vols kept their play consistent. For the previous three weeks, they had interspersed moments of brilliance with moments of sophomoric folly. This time the Vols gave, and LSU was bright enough to take. In each of their previous three losses, the Big Orange were beaten soundly. This game was the Vols' to lose, and they lost it well.
It's a shame that Erik Ainge's otherwise solid, consistent career at UT has to marked with such painful interceptions. There are interceptions, and there are interceptions. Just as there are missed field goals, and missed field goals.
Sigh. 9-4. Oh yeah — I'm forgetting the bowl game.
Sigh.
Posted by Jared Bridges |
Permalink
|
Comments Off

on Hot-lanta too hot for Vols
26 November 2007
[Link] Rite Aid takes on Jerry Springer and Montel Williams
Sorry Jerry Springer and Montel Williams, you've just been put out of business.
---