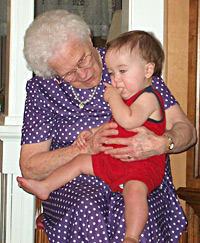 My great-aunt Nancy Sharp died today at the age of 93. On the surface she might have seemed to be just an ordinary woman, but in her ordinariness she was a woman of extraordinary grace.
My late grandfather's oldest sister, she was born on July 31, 1914 in Knoxville, Tennessee — just as World War I was beginning in Europe. She had to quit school at age 14 during the Great Depression so her mother could go to work. Aunt Nancy took care of her siblings. At age 16, she went to work so her mother could return to caring for the children, and she worked pretty consistently until she was 85 years old. So much for early retirement.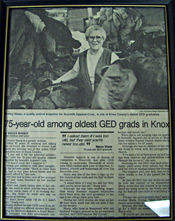 When she was 75 years old, she became one of the oldest people in Knoxville to get her G.E.D. She studied for and obtained her degree while working 40 hours a week, again, at age 75.
She was converted to Christ at age nine, and later became a member of Beaumont Ave. Baptist Church in Knoxville in 1927. Her local church membership was "upgraded" just today after 80 years as a member.
She married late in life, so she had no children of her own, but she never lacked for outlets of love. Her many nieces and nephews were the beneficiaries of Aunt Nancy's quiet grace.
For as long as I can remember, Aunt Nancy was a fixture in my life. Several times a year as I was growing up, our family would make the 2-hour trip to Knoxville, and Aunt Nancy's house was always a much-anticipated stop as we made the rounds visiting relatives. There are only a handful of my 33 years when I didn't get a birthday card (for years filled with her signature $5 bills) from Aunt Nancy, and she never failed to remember Christmas.
In fact even in her later years, she failed to remember very little indeed. She was as sharp as her last name, and while her hearing began to fail her, her wits remained strong. I remember a particular visit I made to Aunt Nancy alone back in December of 2000, a visit that was followed by a first date with my future wife. As we talked about my late grandfather and their family's upbringing, Aunt Nancy's eyes lit up as she recalled her childhood — a childhood that would be measured by much hardship by today's standards. Yet in that hardship was a fondness and love that still carried her late in life.
Aunt Nancy was an extraordinary woman who displayed God's grace at the expense of displaying herself. Would that we might all be more like her.
I'll miss her.