29 September 2007
A living, panting document
This weekend, I watched a re-run 2005 episode of Nova on PBS which chronicled the conservation of the United States Constitution and Declaration of Independence. The painstaking restoration of our nation's founding documents was a worthy subject of documentary, and I'm glad I watched it. As with most documentaries these days, the narrator gave the viewer a "moral of the story" in the closing comments. I found these words very telling (emphasis mine):
Over the next 200 years people will view the documents; and the documents, in their new encasements of glass, aluminum and titanium, will look out on a very different world. One thing is certain, though the words remain the same, their meaning will continue to change, evolving, adapting to new times and circumstances, to a world that we, and their authors, can scarcely imagine.
Ironically, the meaning of these words from a 2005 documentary hasn't changed a bit in the two years that have passed since they were first uttered. It still means today that the show's producers are of the mistaken notion that words do not have (and hold) meaning.
It's not surprising to see PBS pushing a postmodern view of interpreting texts. It is, however, alarming that the writers so blatantly take it for granted that every one thinks this way.
Then again, maybe they didn't mean what they were saying.
22 September 2007
.500
Now that Tennessee has defeated the Arkansas State "former Indians," the Vols are now 2-2. Things are back on the upswing, right?
If it were only that easy.
The Vols did good to win today, but the real story of this weekend were the tough games played by Arkansas, South Carolina, Georgia, Alabama, and um, Kentucky.
We've got all those teams ahead, and next week's bye makes the next two weeks of utmost importance to Coach Fulmer and his staff.
Let's hope they think of them as 14 days of job security…
Posted by Jared Bridges |
Permalink
|
Comments Off

on .500
19 September 2007
And I thought Civics were cars…
ISI has just released the results of its American Civic Literacy Quiz. Apparently the average score for college seniors was 50.4%. Couldn't be that bad, I thought. So I took the test.
Yikes. It's a little tougher than those Jay Leno, "man on the street" quizzes. I thought I aced the thing, only to find I got 85% correct.
I guess it's better than the 69.56% that Harvard seniors scored, and far better than the 53.40% score by University of Florida students (hey I've got to take my Florida victories where I can get them!), but it still highlights well the gaps in American education, including my own.
So how well do you do stack up against today's college seniors in Civics? Take the quiz and find out.
Posted by Jared Bridges |
Permalink
|
Comments (4)
16 September 2007
[Link] List of Top 100 Free Open Source Software
Why pay when you can get it for free? A list of the top 100 free open source software downloads.
15 September 2007
The end of the Phillip Fulmer era
It's time.
At Tennessee, you can only lose to an arch rival so many times. You can only throw a subordinate coach under the bus so many times. You can only slap arrested players on the wrist so many times. At some point, it's time to move on.
Phillip Fulmer's time is up.
It's been nearly a decade since Fulmer's 1998 team captured the national championship. Although the state of Tennessee still inexplicably issues National Championship vanity license plates, for most Vol fans the memory of that banner year has faded.
Today's embarrassing loss to a strong-but-not-that-strong Florida squad should seal the deal. Fulmer has always been a great recruiter, but as anyone in the military will tell you, the battle is won on the field, not the recruiting office.
I still hate the Gators, but my blog nemesis (for this week anyway), the Jollyblogger, has a point in dubbing the Vols as "Outback Bowl runners-up." We may not even get that far if the Fulmer regime remains in place.
It's been a great ride on the Fulmer express, but the train has reached the station.
Dorothy Estes, R.I.P.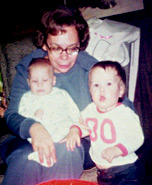 Yesterday, in the earliest hours of the morning, another of my great aunts, Dorothy Estes, passed away. Aunt Dot, as we all called her, was the sister of my grandmother, and an integral part of my extended family in the Knoxville, Tennessee area.
Born on April 16, 1925, she was the eldest of three sisters. She married the late Johnny Estes and moved around Tennessee as she accompanied her husband to several pastorates. They settled in Maryville, TN (pronounced "Murvull" by those who know better) in the mid 1950s, where they built themselves into the community. Aunt Dot raised three sons, survived the death of her oldest child, and raised one grandchild.
My knowledge of Aunt Dot was limited to the sporadic family gatherings that occur when relatives are dispersed across distance. One thing that was made clear from the times I spent with her was that she loved to laugh. She was a kind woman whose love of Christ was evident, and whatever peace that our Lord gave her made her laugh quite a bit.
She wore large, thick glasses that often hid the care with which she listened to those she loved. Her voice was warm, distinct, and memorable. I recall one time when she was talking about a new road that allowed her a shorter drive to her sister's house. "That Pellisippi Parkway, it's a blessing," she said. To this day, whenever I drive on that road, I remember Aunt Dot's vibrant enthusiasm about a road. She was the type of woman who saw a road as a blessing from God.
Aunt Dot will be dearly missed, but the fruit of her life lives on in those of us whom she held dear.
Posted by Jared Bridges |
Permalink
|
Comments Off

on Dorothy Estes, R.I.P.
13 September 2007
[Link] Why Male Teacher Ranks Are at 40-Year Low
Newsweek on why the number of men teaching in schools is at a 40-year low.
Posted by Jared Bridges |
Permalink
|
Comments Off

on [Link] Why Male Teacher Ranks Are at 40-Year Low
[Link] Bill Bennett on all things education
The Professor Is In: Bill Bennett on all things education.
Posted by Jared Bridges |
Permalink
|
Comments Off

on [Link] Bill Bennett on all things education
12 September 2007
[Link] The first chapter to Girls Gone Mild is online
The first chapter to Wendy Shalit's new book, Girls Gone Mild is available free online. It's quite a eye-opening take on the choices girls in our society are faced with.
Posted by Jared Bridges |
Permalink
|
Comments Off

on [Link] The first chapter to Girls Gone Mild is online
[Link] Mohler on reading
Tips from a master: Legendary reader Albert Mohler on well, reading.
Posted by Jared Bridges |
Permalink
|
Comments Off

on [Link] Mohler on reading
---