31 December 2017
2017 in Places
As follows, my yearly tradition of recording all the cities, towns, hamlets, or dots-on-a-map in which I've spent at least one night during the previous year. Here this year's list for 2017:
Chattanooga, TN*
Culpeper, VA
Holland, MI*
Indianapolis, IN*
Lynchburg, VA
Minneapolis, MN*
Moravian Falls, NC*
Kingsport, TN*
Washington, DC*
Williamsburg, VA*
Woodbridge, VA*
cf. 2005/1999, 2006, 2007, 2008, 2009, 2010, 2011, 2012, 2013, 2014, 2015, 2016.
*Asterisk denotes multiple nights in each city.
Posted by Jared Bridges |
Permalink
|
Comments Off

on 2017 in Places
21 September 2011
Blogs, trees, & sounds in the woods
If a blog falls in the woods, and no one is around, does it make a sound?
Probably not, although a podcast might.
At any rate, if anyone is still out there, keep your eyes peeled. You just may begin to see things around these parts again…
Posted by Jared Bridges |
Permalink
|
Comments Off

on Blogs, trees, & sounds in the woods
28 May 2009
What's next, Putin on Facebook?
Looks like President Obama should give some serious consideration to missile defense, because the cold war isn't over — the Russians have now discovered the internet:
One of the Kremlin's pet new media projects has been a site called liberty.ru. It's been set up under the auspices of the Fund for Effective Politics, a think-tank headed by Gleb Pavlovsky, who has been instrumental in shaping the Russian ideology of the last decade. The official objective of liberty.ru — as articulated by Pavlovsky — has been to tap into the immense creativity of the Russian internet users and involve them in producing ideas that could make Kremlin's increasingly unappealing ideological package relevant to the younger generations. Liberty.ru was meant to become something like Russia's DailyKos or Talking Points Memo.
Move over Huffington Post, a new bastion of the political left is about to take charge…
Posted by Jared Bridges |
Permalink
|
Comments Off

on What's next, Putin on Facebook?
26 January 2009
Clichés of the common crime show
These days, one can't turn on the tube without finding a show about crime, cops, and the regular folks caught in between.  The number of shows in the genre is endless, but are they all really that different.  Here are at least seven stereotypical ways which may or may not do crime shows justice.
Cliché #1: The Acronymic Title
One way to know a good crime show is if it's title is an acronym.  Crime shows take too long to be explained in full sentences, so abbreviations must often be used.  There's CSI(any flavor), NCIS, CHiPS, NYPD Blue, Law & Order SVU, JAG, and ER (only kidding!).
Cliché #2: Perpetual Singleness
People in crime shows have neither children nor spouses.  Many, it could be shown, don't even have extended families.  Much like patients on hospital shows who seldom if ever have visitors to their room, the crime show crowd does well to have a dog waiting at the door when they get home from a long day.  This leads to much brooding at days end set to the tune of some likewise brooding James Blunt-style emo music, which is understandable, cause you would emote too if you were in a crime show.
Cliché #3: The Crime Show Babe
Likewise perpetually single, the Crime Show Babe has difficulty concealing her weapon due to the tightness of her clothing.  Consequently, when she does find place to stow her gun and badge, it looks as if it's an awkwardly unwieldy appendage.
The Crime Show Babe has uncanny fighting ability, and is usually able with a swift kick to render an opponent unconscious. There's always some tension between the Crime Show Babe and her male counterpart, but alas, it will never work, due to Cliché #2 above.
Cliché #4: The Startling Beginning
Nearly every crime show these days begins the same way: two people are going about their ordinary day (often on jog around the lake), talking about ordinary things, when all the sudden, they stumble upon a body.  The girl screams, and the show's opening sequence starts to roll.
One variation on this is the CSI-style pun to jump start the show.  The lead, while investigating the murder which happened in a funeral home, stops and quips to the camera: "people are just dying to get in."  Cue the credits.
Cliché #5: Super Crime-show Technology
Let's face it. The cops in crime shows have better technology than your local precinct. From 50-inch computer monitors to holographic crime-scene reconstruction displays, crime shows have the high-dollar gear — except for one glaring omission: the computer mouse.
For some inexplicable reason, the crime show world has yet to discover that tethered, two-buttoned wonder of a device that we in the rest of the world depend upon daily. Our valiant crime-busting friends must rely on pure keyboarding to track down the bad guys. No pointing and clicking here — navigation by typing is the way it's done. Need to move something on the screen? Just type it a little to the left.
Cliché #6: Super Video Enhancement
Got a photo that's a little blurry?  No worries, because the crime labs in crime shows have a super version of Photoshop that's not available to the general public.  With just a few clicks of the mouse — er, I mean keyboard — one can read a license plate from a mile away in photo taken with a cell phone.  This action is always — without exception — introduced by the phrase "can you enhance that?"
Cliché #7: The Killer Confession
No crime show would be complete without the killer confessing to our heroes in the interrogation room.  No waterboarding necessary here.  The criminals are more than willing to explain why they did it, because surely then we will understand why they had to poison their best friend's drink at the bar.  Somehow, it all makes sense in the killer's head, but as our hero will tell them, "the only bars you'll be seeing from now on are the ones on your cell door."
That's seven for the road.  Can you think of any more?
Posted by Jared Bridges |
Permalink
|
Comments (4)
3 January 2009
Fun for the new year: my kids vs. the laser pointer
Years ago, I used to have great fun at the expense of many a cat with a laser pointer.  Fast forward a decade or so, and the fun keeps on burnin' like a laser:
Posted by Jared Bridges |
Permalink
|
Comments Off

on Fun for the new year: my kids vs. the laser pointer
21 November 2008
How President Bush can save his legacy
President Bush is not a popular man these days.  If his approval ratings fall any lower, they might be mistaken for the current Dow Jones Industrial Average.  The lamest of ducks at this point in his career, a turkey might be the only way for him to salvage his legacy.
Every year, the president is presented with the National Thanksgiving Turkey.  And every year since 1989 — when the Bush's father granted a stay to the national bird — a turkey has been pardoned by our commander-in-chief.
Now is the time for George W. to differentiate himself.  Don't grant the pardon. Eat the bird.
Pardons in the waning days of an administration are the stuff of Bill Clinton, not George W. Bush. It would be a final, Machiavellian exercise in strategery.  Sure, PETA would cry foul (or fowl?), but he'll likely never win their hearts anyway.
There will be a whole host of turkeys headed to Washington in the coming days, many of whom will undoubtedly require post-tenure pardon by the Obama administration.  This Thanksgiving, it's time for the president to make his mark upon history by returning to the great American tradition of eating turkeys — there will be plenty to pardon later.
Posted by Jared Bridges |
Permalink
|
Comments (1)
16 June 2008
Insurance companies are communist
Why else would they have such names as State Farm and Allstate?
Posted by Jared Bridges |
Permalink
|
Comments (1)
8 June 2008
Sunday Drive
Given the price of gasoline these days, driving at high speeds on a Sunday afternoon is out of the question. But thanks to the wonders of YouTube, we can all live vicariously.
First, the greatest movie car chase of all time, from the 1968 film Bullitt. Steve McQueen, in his 1968 390 CID V8 Ford Mustang, is followed by two crooks in a black 1968 Dodge Charger. He quickly turns the tables on them, and the chase commences. When the music stops, the engines roar, and it's time to hang on. Read the details of the car chase here, and watch the clip below:
Since we're competing with the Europeans for the price at the pump, I'm reminded of another high-speed driving flick called C'était un rendez-vous. Shrouded in mystery, this 9 minute film is a high speed morning ride through the city of Paris at dawn — shot in a single take:
Drive safely…
Posted by Jared Bridges |
Permalink
|
Comments Off

on Sunday Drive
21 May 2008
The Hulk must be an incredible smoker
The other night, during a television commercial break, something strange caught my eye in a trailer for the new movie The Incredible Hulk:
It didn't strike me until 10 seconds into the next commercial. Quick rewind (this is the stuff DVRs are made for!). Yes it's just as I thought: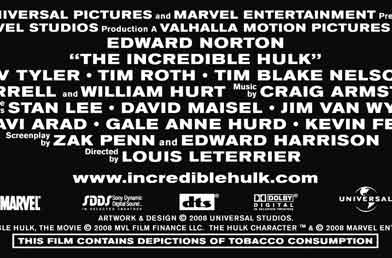 Notice the dire warning box at the bottom of the credit screen (which looks eerily like a McCain-Feingold style political disclaimer). Yep, just when you thought it was safe to enter the cinema again, they had to go and ruin it.
Nevermind that its PG-13 rating includes "Scenes of intense action violence, some frightening sci-fi images, and brief suggestive content," this film contains depictions of tobacco consumption, for crying out loud!
Why can't they just let the monstrous gamma-ray infected superheroes bludgeon each other to the death without bringing tobacco into the mix? Films these days are getting as dangerous as the front porch of the Baptist church of my childhood, which featured more than its fair share of tobacco consumption.
Posted by Jared Bridges |
Permalink
|
Comments (3)
17 April 2008
Judy, Judy, Judy
Think about all the women you know.
Are you thinking?
Let me then, make a bold prediction: you know no one under the age of 40 whose first name is Judy.
Oh yes, I can prove it…
Posted by Jared Bridges |
Permalink
|
Comments (2)
---