17 April 2008
Judy, Judy, Judy
Think about all the women you know.
Are you thinking?
Let me then, make a bold prediction: you know no one under the age of 40 whose first name is Judy.
Oh yes, I can prove it…
11 April 2008
How to name a subdivision
Last week, we looked at how to name a church. This week, let's take a brief look at how to name an American staple: that compound of suburban bliss — the subdivision.
The trick in naming a subdivision is pretty simple: think opposite.  For example, if the subdivision consists of quarter-acre lots within the city limits, you call it "Country Acres."  If you have garden homes in a valley, you call it something like "Hillside Estates."
You must be very careful in naming your subdivision, lest you cross the line too far and end up with a funeral home name — a system that is frighteningly similar.  If your neighborhood's name is "Sunset Gardens," you know someone has gone too far.
Now that you know the rules, go have some fun with it at this random subdivision name generator that I found.
6 April 2008
Why is drive-thru technology still in beta?
As I made my way through the Dunkin' Donuts drive-thru today, it dawned on me that even though the technological advancements of our country have given us such wonders as i-Phones, artificial hearts, and Tang, we still haven't developed a drive-thru intercom system that outputs ungarbled speech.
No matter which fast-food bastion I choose to visit without exiting my vehicle, my order is always read back to me in a language that not even a Star-Wars interpreter droid could understand. At Dunkin today, my conversation went something like this:
Me: I'd like a box of the 50-count Munchkins, assorted.

Drive-thru speaker: You'd lshieheno lseir ei ni shh shhh sh mme a 25 whh whhh?

Me: No, not the 25-count — a 50-count please.

Drive-thru speaker: Ok, sljdjdj shh mee mee shmee shmaw total is shmee shaww wuuu…

Me: (sigh) OK, I'll drive around.
Exactly what kind of microphone-speaker systems do these places use? I got better clarity when I made tin-can-and-string phones when I was a kid. Mark my words: the person who invents an intelligible drive-thru voice clarification system will lead this country out of recession (that is, if we're really in a recession…).
Also, am I the only person who has spent many a sleepless nite wondering why it's spelled drive-thru instead of drive-through?
4 April 2008
How to name a church
Let's pretend that you're planting a new church.
If you're a typical evangelical church plant in the United States, you've probably gathered together a few families and individuals in a community, and are meeting in homes, rented office buildings, or more commonly, a school building.
Hopefully, you've decided (and founded your church upon) sound doctrinal tenets and at least a few church leaders. Next comes a phase that's perhaps even more difficult: naming your church. While there's biblical precedent for the naming of animals, support for the naming of a church is scant.
Thankfully, we evangelicals (who are typically disoriented without written instruction) have found a way to remedy this. It's really a rather simple process. Start with the list of words below:
Life
Community
Covenant
Creek
River
Chapel
Spirit
Grace
Faith
Calvary
Cross
Hope
Fellowship
Light
Redeemer
First
Road
Take any combination of the above words, in any order, and add them to your denominational (or lack thereof) preference, and tack on the word "Church." Bingo. A brand new church name.
There will be outliers, of course—the Chevrolet Missionary Baptist Church I saw once driving through Harlan, Kentucky certainly didn't fit the mold—but as a general rule, it works pretty well.
If you can think of any other church-name-words that I've missed, put them in the comments below.
Next week, we'll look at how to name your subdivision.
Posted by Jared Bridges |
Permalink
|
Comments (10)
4 February 2008
Super Tuesday Predictions
Since I missed my Super Bowl predictions, why not try something a little more safe, like Super Tuesday? I predict:
My trash will be picked up
D.C. traffic will be bad
I will have at least two meetings at work
Catholics everywhere will get fat
And you thought I was going to say that John McCain would win the bulk of Republican delegates and Hillary Clinton would upset Barack Obama in the Democratic race…
Posted by Jared Bridges |
Permalink
|
Comments Off

on Super Tuesday Predictions
17 December 2007
A Major Award
Seen in my neighborhood: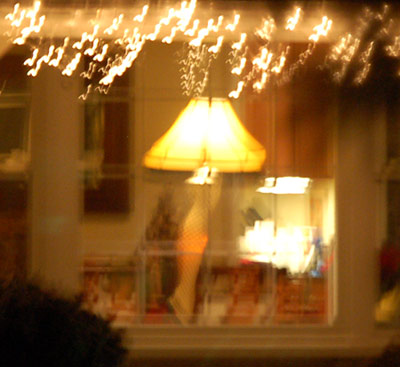 Excuse the blur — the line between discretion and good photography when you're standing behind a tree snapping shots of your neighbor's house at night is thin. I'm not cut out to be among the paparazzi.
In case you've lived under a rock for the past 25 Christmases, the lamp is indeed a "major award" from the classic 1983 film A Christmas Story. You can get your own here.
Posted by Jared Bridges |
Permalink
|
Comments (3)
24 November 2007
Just because…
My kids think this is the funniest song in the world:
Jim Henson, we hardly knew ye.
30 October 2007
Please, be seated
It's official. Standing ovations are now meaningless.
I recently attended a political event here in Washington where nine presidential candidates came to speak to a crowd of nearly 3000 people. The same crowd gave every candidate a standing ovation. While some of this was due to the politeness of the crowd, it was noteworthy that each candidate received the superlative endorsement of the crowd. Later at a tribute dinner, there were so many standing ovations for the tributee that it often seemed more meaningful to sit and clap.
Therefore, I'm proposing — if you'll join me in this contrarian revolution — that a sitting ovation now be the sign from an audience that the limits of greatness have been reached.
Think about it. No more having to stand up again once you've situated yourself. No more wondering whether or not you should stand, lest you offend. This revival of the long lost sitting ovation will bring about a new sort of equanimity to the crowd that will further marginalize those rabble-rousers who try to stand up and clap.
Join me in not standing for this nonsense any longer.
Posted by Jared Bridges |
Permalink
|
Comments Off

on Please, be seated
10 September 2007
Gator Hater Week 2007

One point.
That's the margin by which the Florida Gators won in last year's game against Tennessee. Does such a slim margin mean that we should hate the Gators any less?
Absolutely not! There's still plenty of hatred to go around.
One of the questions that I'm most often asked regarding the Gators is this: "Do you hate the Gators any less now that the Ol' Ball Coach has moved on to the chicken coop?"
By no means! That would be unfair to the Gators to put all my hatred in to one visor-wearing coach.
Yes friends, this is the week that hatred reigns supreme. The Tennessee Vols take on the Florida Gators this Saturday in that completely asymmetrical arena they call the Swamp.
This week, do yourself some favors: hate the Gators.
31 July 2007
Bat Boy, R.I.P.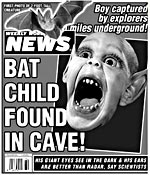 It was with great sadness that I learned of the demise of one of my most trusted news sources, the inscrutable Weekly World News. The New York Times reports that the venerable supermarket staple is soon to shutting down the press.
This is a great loss to the world checkout line journalism. Weekly World News always brought a little realism to a venue overrun by guides to fashion, beauty, and romance. As I stood in line, placing my divider between my items and the person's in front, it always brought comfort to know that WWN was there to balance out the "101 Ways to Please Your Man" articles of the womens mags with a good dose of "Elvis found alive in Peru!"
For the newspaper which brought us Bat Boy and that crazy alien which endorsed U.S. presidents,the sun has now set, leaving those of us in the checkout lines to Sodoku books, sex guides, and Brangelina. For our serious news, we must now turn to The New York Times.
---