18 January 2013
Strong-arming the truth
My thoughts on the downfall of Lance Armstrong are up at The Gospel Coalition:
On a rainy May morning in 1996, I woke up early and drove to nearby Bristol, Virginia, to watch the start of a stage in a conspicuously branded professional bicycle race called the Tour DuPont. For a young East Tennessee amateur cyclist, this was about as close to the red carpet as I had ever been. There were a handful of famous European pros on hand, but I really wanted to get a glimpse of America's next great hope—a scrappy young Texan named Lance Armstrong.
Posted by Jared Bridges |
Permalink
|
Comments Off

on Strong-arming the truth
3 November 2012
3 State 3 Mountain Challenge 2012, Part 3
[Continued from part 1, and part 2]
Lookout Mountain
Lookout Mountain is an icon of the South.  As a kid, en route to see my grandparents in Alabama, we'd circle the hump-backed juggernaut as we passed through Chattanooga.  It's lore was spread via one of the most innovative advertising campaigns in history — painted barns throughout the South emblazoned with "See Rock City," a simple message that brought the Lookout Mountain tourist attraction to from obscurity to prominence in the twentieth century.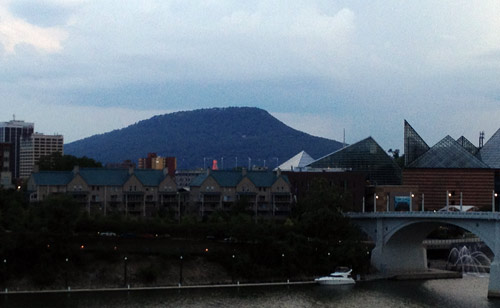 In the century of our present discussion, however, Lookout Mountain is the mountain in the 3 State 3 Mountain Challenge.  The other climbs, while respectable, are merely warm-ups.  Whether you're at mile 13 or mile 32, mile 82 and Burkhalter Gap Road waits ever-so-patiently for its victims. The ride's website describes it sparsely:
Lookout is by far the steepest – 2.3 miles at a 8-10% grade with a 18 – 20% grade at the top.
There is a rest station right before the climb. Â My family met me here, which was a bit of encouragement, since none of the other riders seemed to be talking about what was before them in great detail. Â Only a sense of doggedness was evident, with sparse tips here and there (save weight by not loading two full water bottles, as there's another food station at the top). Â After too long procrastinating the inevitable, I mounted up and turned the corner to Burkhalter Gap Road.
Remember those old photos of the Alaskan Klondike Gold Rush?  You know, the ones with prospectors lined up, single file, slogging up a mountain pass? Minus the snow, the view from the bottom was pretty similar. As I turned the corner and looked uphill, a line of slow-moving cyclists angled upward as far as I could see.  The grade looked manageable as I rolled over the electronic timing mechanism that marked the showcase climb. However, it didn't take long for my already weary legs to run out of gears.
On my compact gearing setup, 34×26 is as low as it goes. A quarter mile into the ride, I had bottomed out. Â The temperature was hovering around 90 degrees, and it became difficult to turn over the pedals even in my lowest gears.
Here's where I wish I could tell you I fought the good fight and disregarded the burn in my legs and powered up the mountain on guts alone. I wish I could tell you that, but here's what really happened: About a mile into the climb, I noticed a shady spot on the side of the road. My tumble into temptation began here.  The mirage effect took hold.  It was so hot, and that spot looked oh-so-shady. Just a one minute rest to get my heart rate — already near maximum — settled down.  One minute, no problem.  I paused for about 60 seconds.
The problem was, once I began the ascent again, it didn't take but about 15 seconds for my heart rate to again max out and for the burning in my legs to ignite anew.  About 1.5 miles into the climb, I paused again. After another quarter mile, I rested yet again. As I encountered several riders walking all the way from the halfway point in the climb, my hopes were fading — this mountain was tough. I have ridden similar climbs before and survived them, but this climb, at this stage in the course — had become a menace.
Just before the last insanely steep 300 meters, the grade levels out a bit — a tease before the mountain eats you alive.  Once I reached the steepest upturn with 250 meters to go, I dismounted, knowing that the grade was too steep here get back on the bike and clip in.  I was done.  I joined the Klondike-like stream of walkers pushing their bikes up the right side of the road.  A fellow rider who walked beside me commented, "I don't think I could do this hill even if it wasn't at mile 82."
To our left, the heroes of the day powered up — all standing, and all zig-zagging up the slope with barely enough momentum to keep their bikes upright. I looked over with admiration at those who summited beneath the red archway with grunts, pains, and gasps.  There was no shame on my part at the time.  After all, I had done all that I could do.  The haunting would come later.
No one lingered long at the rest station atop Burkhalter Gap — there were still 18 miles to go. Â At the top of a mountain, one would think they'd be easy miles, but at that stage, nothing was easy. Â It's that point in a monumental effort when quitting is out of the question, but continuing cuts you to the core.
The long, gradual climb up Lula Lake Road was just long enough to be disheartening, when I encountered two twelve year-old boys on the side of the road clapping and yelling encouragement, calling out riders by number (who says there's no hope for America's youth?).
When it became apparent that there was nowhere else to climb, the police officer holding traffic shouted enthusiastically to the small, disheveled group of riders I had joined, "It's all downhill from here, boys."  Music to my ears.
Descent
The 5-mile descent down the scenic Lookout Mountain highway is harrowing.  Fast downhills are tedious enough, but with constant switchbacks with tourists crossing the road, it was no time for a weary cyclist to be groggy.  I "saw Ruby Falls" in the blink of an eye. Make no mistake, it was fun, but I'm often just as relieved (in a different way) to reach the bottom of a mountain as I am the top.
Arrivée
Immediately upon reaching the base of the mountain, I was back in downtown Chattanooga, and the two miles back to the finish at the stadium were largely ceremonial. Just like the rest of the preceding 100 miles, all intersections were manned with cheerful volunteers.  An immense sense of relief came over me as I rolled into the stadium parking lot to the finish line where bounteous refreshment awaited.
A short two hours later I would be asleep after simply just stretching out "for a moment." Â I slept well that night, but it wasn't long until that last stretch of Burkhalter Gap Road began to haunt my dreams.
As I write this, I'm staring at an event decal on my desk from the 3S3M.  It was given out to finishers of the century course, and reads "I Conquered The Gap, May 5th, 2012."  However much I actually conquered, I know well that on that day, the Gap conquered me.  I also know that in 2013, Lord willing,  the Gap will be put in its proper place. Stay tuned…
Posted by Jared Bridges |
Permalink
|
Comments Off

on 3 State 3 Mountain Challenge 2012, Part 3
1 November 2012
3 State 3 Mountain Challenge 2012, Part 2
Sand Mountain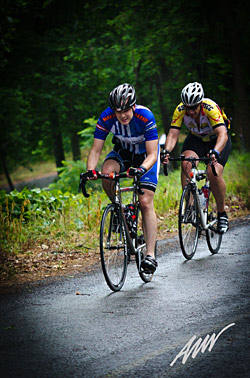 The showers drenched, but didn't dally. By the time I made the turn onto the rough rural roads of northern Alabama, the rain had ceased and a steamy vapor began to rise from the pavement.  Aside from the bad roads, there was little clue save for a sparse state road marker that I was actually in Alabama, but the Sand Mountain climb soon gave all the verification I needed.
The climb, up what is apparently known as the "goat path," is wooded with switchbacks and is not too steep, but long enough to make you use your lower gears (the website's promised "2.5 miles at a 6-7% average grade" is about right).
It was still early enough for the field to still be pretty crowded, and the roads were wet,  it was a  fun climb.  I began to see, however, that my fellow riders were no novices when it came to climbing.  I did my best to make a good show to the top, but having two mountains down and only one to go offered little comfort.  Though still 50 miles away and out of sight, Lookout Mountain's Burkhalter Gap still loomed large.
Geographically, Sand Mountain seems more like a large plateau. Â Once on top, the course went on for miles and endless miles of rollers and flats. Â Two rest stations at around 34 and 55 miles broke the monotony a bit, but large stretches of long, straight roads where you could see cyclists for miles both forward and backward nearly made monotony a mountain of its own.
As I pushed through those desolate miles, a couple of guys in a paceline (with powermeters!) took pity upon me and invited me to join in with them. I took a few pulls on front and rotated through for about 15 miles until we joined with a larger group and the pace ramped up. Â Too blistering blistering for me, I was dropped, and dogged out the rest of the rolling plateau on my own.
As we neared the descent of Sand Mountain, we crossed into Georgia and began to see some stunning views from the mountaintop into the valley below. Â Also coming into view was Lookout Mountain, just across the way, waiting patiently.
Finally, Sand Mountain had come to an end — the only place left to go was down. Â The descent was fast and furious, but not fatally so — despite the ominous rescue vehicles parked at couple of the switchbacks. Once at the bottom two roads diverged in a wood. Â Would I take the one less traveled on, leading me back to the finish via the 90-mile route? Â Or would I turn right with most everyone else and face the suffering that awaited me on the legendary climb up Lookout Mountain?
Posted by Jared Bridges |
Permalink
|
Comments Off

on 3 State 3 Mountain Challenge 2012, Part 2
31 October 2012
3 State 3 Mountain Challenge 2012, Part 1
Given the recent Lance Armstrong and pro cycling doping scandals, I thought it might be worthy to show what the cycling world looks like more often than not — that is, undoped, unpaid, underprepared, and wickedly fun. Â What follows is a report (in three parts) from an ride I undertook earlier this year.
One hundred miles in a day
In the opening to the band Alabama's song "Mountain Music," an old man wearily groans, "See that mountain over there? One of these days I'm gonna climb that mountain…"  We're not told why the old man wants to climb the mountain. Perhaps it's the clichéd "because it's there" or perhaps he simply needs to get out of the valley. Whatever the reason it is that we scale such heights, there was plenty of mountain climbing available in Chattanooga's 25th Anniversary 3 State 3 Mountain Challenge on 5 May 2012 — and for me, some left over.
The century bicycle ride wasn't the first 100- mile trek I had done (I rode the excellent Storming of Thunder Ridge in central Virginia in 2011), but this course certainly put me in my place.  More about that later — for now, let's start at the beginning.
Départ
With around 1500 riders in the race (I think, judging from the finish results), the starting line was pretty crowded. Keep in mind, this is only the third organized ride I've ever done, but it was by far the largest group. Â The start outside Finley Stadium was well-orchestrated, however, and traffic was managed to keep us all riding smoothly to the first climbs just outside downtown Chattanooga.
Thankfully, most other riders were more experienced than me with pack riding, so it was relatively safe. I did, however, have to make an emergency stop to retrieve a water bottle when I veered onto an outside-lane rumble strip on a descent that sent my much-needed 2nd bottle into the ditch.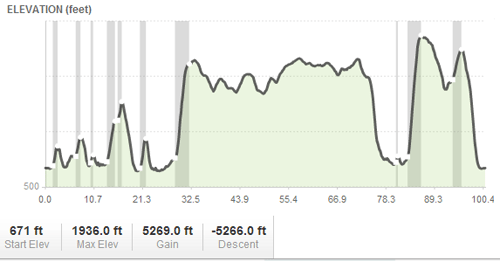 Aetna Mountain
As you can see from the course profile, it wasn't long before the roads began going up. The first "real mountain" was a short, gradual climb up the side of Aetna Mountain. I mean no disrespect here, but the only way I could be sure that we were on the mountain was by looking at my odometer — it was that easy a climb. It did have a fun and fast descent where I picked up my maximum speed for the day (42mph) on the long and straight ride down to the water.
Shortly thereafter, we reached Ladd's Mountain — a smaller but similar climb to Aetna that doesn't figure into the "3 Mountain" count. Ladd's seemed to take as much effort as Aetna, and was easily manageable. Upon the descent of Ladd's Mountain, I reached the first food station at 23 miles, with dark clouds looming overhead. I had learned from my previous century that the first rest station one is not one at which to make a pit stop. The lines were long, so after a quick top-off of my bottles, I was quickly back on the bike, but I was too late — large, heavy drops of water began to fall from the sky.
Posted by Jared Bridges |
Permalink
|
Comments Off

on 3 State 3 Mountain Challenge 2012, Part 1
8 October 2012
Knuckleball! is a hit you shouldn't miss
As a kid, I remember playing catch with my Dad when he would throw peculiar pitch that didn't spin like the others — it sort of floated in the air without spinning and seemed like it would never get to my glove. It was, of course, a knuckleball — a pitch that goes against everything that high-heat baseball pitching stands for.
Knuckleball!, a new documentary released last month in select theaters and on Video On-Demand, follows this unorthodox pitch through the lens of two of its purveyors: Tim Wakefield of the Red Sox — who made a career of the knuckleball, and former Tennessee Volunteer R.A. Dickey, who has blossomed onto the scene with the Mets in the last couple of years following a long difficult road as a conventional pitcher.
The film follows the pitch and its pitchers as a metaphor for life: You can't control it, and once it leaves your hand, it has a mind of its own.
Watch it.
Posted by Jared Bridges |
Permalink
|
Comments Off

on Knuckleball! is a hit you shouldn't miss
2 May 2008
Horsing around
Saturday marks the 134th running of the Kentucky Derby. For most of my life, I never paid much attention to it. I had watched it a few times on television, but never really understood its appeal — until I lived in Louisville, Kentucky for six years.
The first spring I was there, I worked part time with nearly half of my weekly hours falling on Friday (I had no classes so I could work all day). On the Thursday before the race, I made and off-hand comment about work tomorrow, and my boss looked at me like I was crazy — we were not going to be open on Derby Day!
The local schools were closed too, I soon found out (on Friday, a race called the Kentucky Oaks is run at Churchill Downs). Apparently, the school system couldn't find enough substitute teachers to replace all the teachers who would take off for the race. Rather than give all the students (and teachers) detention for skipping school, the schools decided not to fight it.
My better judgment (not to mention my sheer amateurism) has kept me from ever putting money down on a race, but I do like to pick 'em and watch. Last night my wife and kids decided to get in on the game too, so here are our picks to win (with odds at time of posting):
What are your picks?
Posted by Jared Bridges |
Permalink
|
Comments Off

on Horsing around
10 September 2007
Gator Hater Week 2007

One point.
That's the margin by which the Florida Gators won in last year's game against Tennessee. Does such a slim margin mean that we should hate the Gators any less?
Absolutely not! There's still plenty of hatred to go around.
One of the questions that I'm most often asked regarding the Gators is this: "Do you hate the Gators any less now that the Ol' Ball Coach has moved on to the chicken coop?"
By no means! That would be unfair to the Gators to put all my hatred in to one visor-wearing coach.
Yes friends, this is the week that hatred reigns supreme. The Tennessee Vols take on the Florida Gators this Saturday in that completely asymmetrical arena they call the Swamp.
This week, do yourself some favors: hate the Gators.
Posted by Jared Bridges |
Permalink
|
Comments (1)
11 July 2007
All-Star Sideshow
Perhaps the only thing more disheartening than watching the National League lose its 10th straight All Star Game (though the late comeback attempt was exciting) was the attitude by the Fox broadcasters who assumed its audience wasn't actually interested in the baseball playing part of the game. Instead of the action on the field, we were treated to such interesting side shows such as a life-jacketed "journalist" on a boat in the bay who sent his likewise life-jacketed bulldog into the water to fetch a baseball.
Or, instead of watching the pitcher's wind-up, we're treated to a clip of a microphoned Tony LaRussa uninterestingly reviewing the inning's lineup with the umpire. During another player's at-bat, we were forced to endure an interview with Jimmy Leyland about his feelings toward Barry Bonds. Anything to keep from having to show the game.
Baseball isn't the only sport that suffers from what I like to call "sideshow syndrome." If you've ever been to a minor league hockey game, you'll know what I mean. It's as if sports producers naturally assume that 90% of their audience has ADHD. After all, many do have HDTVs, so ADHD couldn't be far behind.
Just let me watch the game.
Posted by Jared Bridges |
Permalink
|
Comments Off

on All-Star Sideshow
19 October 2006
Alabama Fans
I love Alabama fans. I have to. After all, an entire branch of my family tree comes from the Southern state that stars fell upon. Growing up as a Tennessee fan with an Alabama-alumnus father made for an interesting time come football season. I and my brothers were forced to wear crimson clothing as young children, the photographs of which popped up at inopportune times like wedding receptions.
In case you're not from the South, you may not know that the Third Saturday in October traditionally plays host to the Tennessee-Alabama game. And traditionally, Alabama fans lead up to game day with a grand chorus of downplay and self-doubt.
No matter what the Tide's record, Bama fans always set themselves up for a loss. "Alabama is sorry this year," they'll say, "it's a wonder that they've even won a game." And so the the naysaying will go. Every. Single. Year.
And yet Alabama leads the historic rivalry 44-37-7.
This year, the #7 Vols outrank the unranked Tide in the polls. Tennessee (5-1) has a better record against better teams than does Alabama (5-2). Ostensibly, the Vols have better players — and we all know that Tennessee head coach David Cutcliffe can outsmart Bama coach Dennis Franchione with ease.
Just this once, I'll agree with the Bama fans. Alabama really is "sorry."
And yet…
And yet it is still the Third Saturday in October. The slate is cleared every time — and every time, I hope the Bama fans are right.
Posted by Jared Bridges |
Permalink
|
Comments Off

on Alabama Fans
10 July 2006
Penalty Kick Blues
I'm happy that Italy won the 2006 World Cup. Well, not really happy, just happier than if the Gauls would have taken the prize. C'est la vie, mes amis.
It is sad, however, that a World Cup final had to end in a penalty kick shootout. I've never liked the shootout as a resolution to a tie. It's almost as if everyone decides that since they can't resolve the match playing soccer, why not just end it by playing a different game?
My apologies to the players, but I think the game would be best served with a baseball-like finally. Just keep playing overtimes until one team either drops from exhaustion or scores. True, it gives the term "sudden death" a bit of double-entendre, but at least they end by playing the same game they began.
Posted by Jared Bridges |
Permalink
|
Comments Off

on Penalty Kick Blues
---