28 May 2009
What's next, Putin on Facebook?
Looks like President Obama should give some serious consideration to missile defense, because the cold war isn't over — the Russians have now discovered the internet:
One of the Kremlin's pet new media projects has been a site called liberty.ru. It's been set up under the auspices of the Fund for Effective Politics, a think-tank headed by Gleb Pavlovsky, who has been instrumental in shaping the Russian ideology of the last decade. The official objective of liberty.ru — as articulated by Pavlovsky — has been to tap into the immense creativity of the Russian internet users and involve them in producing ideas that could make Kremlin's increasingly unappealing ideological package relevant to the younger generations. Liberty.ru was meant to become something like Russia's DailyKos or Talking Points Memo.
Move over Huffington Post, a new bastion of the political left is about to take charge…
Posted by Jared Bridges |
Permalink
|
Comments Off

on What's next, Putin on Facebook?
25 April 2009
Six years at the blog
Wow. My calendar tells me that today marks the sixth year of this blog's existence. Postings are hard to come by these days, but none are more fun to write than ones like the post that preceded this one.
Six years ago I began blogging as an experiment. Almost nobody I knew had the faintest idea what a "blog" was (some speculated that it was something that came out of your nose, but no one could be sure…). It was over a year before I ever met another blogger in person. Nowadays, it's hard to find someone who doesn't have a blog.
The lights aren't always on here around TruePravda, but believe it or not, someone is still home (the archives are full of rusty treasures). Who knows? Perhaps I'll come up from the basement and visit a little more in the near future…
In the meantime, thanks for reading.
Posted by Jared Bridges |
Permalink
|
Comments Off

on Six years at the blog
23 September 2008
GodBlogCon 2008
Just returned yesterday from GodBlogCon 2008 in Las Vegas. It's a funny name for a conference, but nomenclature aside, it lived up to its reputation as the premiere conference for Christian bloggers. Conference organizer Dustin Steeve and his crack squad from the Biola's Torrey Honors program ran an excellent show, and made a great first impression on this first-timer.
I've seldom attended a conference that offered such a combination of challenge, community, and camaraderie. If you missed it, you can listen to all the speakers at The Scriptorium Daily.
I'd tell you what else happened in Vegas, but you know the saying…
Posted by Jared Bridges |
Permalink
|
Comments (1)
25 April 2008
Five things about blogging (from five years of doing so)
Today is blogiversary 5.0 here at TruePravda. That's right, April 25, 2003 marked the beginning of this eclectic hive of commentary, opinion, & general mischief. So to celebrate (aside from rereading all the archives), here are five things I've learned about this not-so-new medium:
Only write when you have something to say. This is a rule I've often violated, more so in the first year of writing here. The blogosphere is cluttered enough. If it's not good, silence is stronger.
Be just as ready to hit "delete" as you are to hit "publish." I've deleted countless posts that for one reason or another, weren't fit for publishing to the world. I've never regretted one of these deletions, even when I've spent much time and intellectual energy writing them. Restraint is your ally. Befriend it.
Edit, edit again, then edit your edits. The entries I consider my best are inevitably the ones I reread and rework. Tight editing can't improve an idea, but it can make it more presentable.
Have a little fun, even if nobody else cares. My general mischief category keeps me sane by way of dispensing insanity. I love to write brief, post-game recaps of University of Tennessee football games. I'm probably the only person who reads them. All the best bloggers dispense a little levity — who am I to argue?
Care for your audience but don't write only to please them. It didn't take long to discover that I couldn't be "all things to all people" in every post. You can't please everyone, so speak the truth to the best of your ability. Don't sell out.
So whether you've been reading for five years or five minutes, thanks for taking the time to read TruePravda.
24 April 2008
If you want me to read your blog…
…PUBLISH FULL RSS FEEDS!
That's right bloggers, I'm putting you on notice.  The days of my clicking through to your blog through an RSS excerpt are coming to an end.  I just checked my Google Reader subscriptions, and there are 146.  One hundred forty six. At some point I must have (slightly) exceeded my self-imposed 100-feed ceiling for RSS subscriptions.  That means the time it takes me to click over to your site to "read the full post" is more limited than ever.  Why post only an excerpt?
The nature of the web is changing.  Ten years ago, it was all about getting people to your website (or "home page") and keeping them there.  Today's interwebs are different.  Content flows through more pipes than your pappaw used to smoke these days.  If your content is good, I'll stop by your site every once in a while — promise.  Just don't make me do it to see your content.
For my readers who have no idea what this means, please forgive me — not that you shouldn't be ashamed that you're still not using RSS.
25 April 2007
Four years and seven minutes ago…
…this blog exhibited its very first posting. That's right, today marks my four-year "blogiversary." Since that time, there have been wars and rumors of wars, and well, we're still here. Only four years seems a lifetime away. I've since obtained a graduate degree, two wonderful children (whom I'll cite unashamedly as the cause of decreased posting here in the past two years), a new job (thanks in part to this blog), and many new friends.
Thanks for taking the time to read. If you're in the mood to reminisce, take a stroll through the archives. If you're not, I'll still be around in another four years, Lord willing.
28 January 2007
WordPress 2.1
Non-bloggers will want to ignore this post, but I just want to note that I've upgraded to the latest and greatest WordPress 2.1 (the software that runs and powers this blog).  Overall, I like the upgrade, which has quite a few snazzy changes under the hood.
There were a few snags in the upgrade, particularly with the new classification of the links manager as the "blogroll."  I incurred many a headache trying to figure out how to display my links as I did before the upgrade.  HINT: for those of you attempting the upgrade, editing the bookmarks file in the [wp-includes] folder can accomplish all you want and more.
The WYSIWYG text editor is now actually good enough to use!  I had previously had it turned off, but now you can easily switch between the visual editor and the code editor.  The autosave feature is nice too.   The best part is that is doesn't seem to slow down the administration interface any, as upgrades in software tend to do.
All in all, the upgrade was worth the headaches.  Kudos to the WordPress team for continuing to improve an amazingly efficient and expandable product.
Posted by Jared Bridges |
Permalink
|
Comments Off

on WordPress 2.1
23 November 2006
Redesign 2006
I hope everyone has had a happy Thanksgiving, and one more thing you can be thankful about is that I've finally redesigned TruePravda from the ground up.
My last full redesign was two years ago. I made a few gradual aesthetic improvements during that time, but nothing major. This design is the fourth incarnation of the blog since it began in April 2003. The previous version looked like this: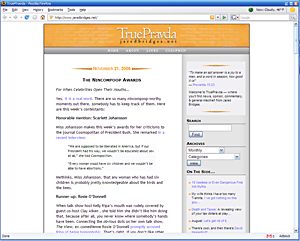 I've still got a few kinks, improvements, and addtions to iron out, but that's half the fun. Let me know if you see anything that's awry. One major change is that "On the Side" items will now show up in the main RSS feed, as well as in a search. The site is also a little more mobile-device friendly now.
Coming soon is a photo gallery — even sooner than that is a major announcement tomorrow.
Stay tuned, and enjoy the new design…
Posted by Jared Bridges |
Permalink
|
Comments Off

on Redesign 2006
1 November 2006
Firefox 2.0's Spelll Checkur
I've been using Firefox 2.0 since its release a couple of weeks ago and I'm thrilled that it finally includes a spell checker for form fields. It's the feature I've been lamenting the abscence of for a long time, and I'm glad to see its incloosion in a browser.
Now my posts are certain to have less spelling errurs in them. It doesn't check grammer, only spelling.
Upgrade your Firefox now. You are using Firefox, aren't you?
Posted by Jared Bridges |
Permalink
|
Comments Off

on Firefox 2.0's Spelll Checkur
2 July 2006
Tools
Some internet tools I've been using lately:
LibraryThing: I know it's been out a liitle while, but I've finally begun playing around with LibraryThing, the online tool for cataloging your books. You get to list up to 200 titles for free, so I started adding some volumes from my fiction collection.

It's rather addictive, and I'll probably be adding to the list in the future. In the meantime, check out the fiction selection from my shelves.

Google Notebook: helpful for making notes, drafts, or lists, Google Notebook is pretty handy, especially if you use multilple computers. It features Gmail's rich text editor, and is easily organized.
Google Calendar: Outlook no more. Again, this program is indespensible for those who use more than one computer. It's pretty powerful too, with sharing and subscription options for each calendar you make. I've used this for about two months and am hooked.
Enjoy.
Posted by Jared Bridges |
Permalink
|
Comments Off

on Tools
---