12 January 2006
2005 in Places
Following Jason's meme, here are the cities in which I spent at least one night in 2005:
Alcoa, TN
Birmingham, AL
Destin, FL
Gray, TN
Indianapolis, IN
Kingsport, TN
Knoxville, TN
Louisville, KY
Owensboro, KY
Pigeon Forge, TN
Stamping Ground, KY
Townsend, TN
Although several of the above were repeat visits, it appears I'm becoming a homebody. Compare with my 1999 list:
Birmingham, AL
Budapest, Hungary
Elat, Israel
Frankfurt, Germany
Haifa, Israel
Jerusalem, Israel
Kingsport, TN
Kiyiv, Ukraine
Knoxville, TN
Krakow, Poland
Lake Naroch, Belarus
Louisville, KY
Minsk, Belarus
Moscow, Russia
Nashville, TN
Northern Israel
Nyoman River, Belarus
Paris, France
St. Petersburg, Russia
Tihany, Hungary
Vilnius, Lithuania
Warsaw, Poland
Where did you go in 2005? Daytrips don't count — only places where you spent the night.
Posted by Jared Bridges |
Permalink
|
Comments (8)
26 October 2005
Travelogue: Pigeon Forge (R.I.P.), Gatlinburg, & Townsend, TN
Recently I had the chance to travel to a place I have been many times throughout my life: the Gatlinburg/Pigeon Forge area of Tennessee. What follows are my notes from the trip, with a couple of photos thrown in for good measure.
Posted by Jared Bridges |
Permalink
|
Comments (1)
6 September 2005
Travelogue: Knoxville, TN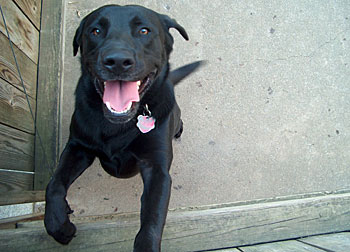 Over Labor Day weekend, my wife, the tyke, and I made the relatively short trip from Louisville, KY to Knoxville, TN for a relatively short visit with relatives of all flavors. Here are my notes from the trip:
The traffic seemed eerily light for a major holiday travel weekend. Undoubtedly the $3+ gas prices (and threatened shortages) played a role.
For as long as I can remember, there has been road construction on the section of Interstate 40 from downtown through west Knoxville. They've either been adding lanes, repaving, or blowing up bridges incessantly for the last 20 years. There are undoubtedly "permanent road construction worker" jobs for that section of highway. There's a chance that all the orange barrels are simply a show of support for the Vols, but I doubt it.

Being in Knoxville on a weekend when Tennessee is playing football at home and not going to the game is more than a little disconcerting. Compare it with going to Paris and not ascending the Eiffel Tower — a feat I've managed to accomplish without regret. There's just something that makes you feel out of place watching a home game on TV in Knoxville. There are times, however, when one must make do, and Saturday thus did make. . .
On the way to my cousin's house, we passed by Mr. George's Barber Shop, where I got my hair cut in college. It was nowhere near campus, but the haircuts were cheap and lacked the effete stigma of getting your hair cut in a "salon." Why get your hair cut by someone wearing a black turtleneck for $30 when you can get it cut by an old guy in a smock who'll talk football with you for $7? Perhaps I'll post more on my history with barber shops later. . .
With the extra holiday added to the weekend, we had the chance to visit my brother's house in nearby Alcoa — a city named for the ALuminum Company Of America, which built the town in 1910 to house its workers (imagine Louisville being called Ups, after its chief employer!). With my brother and his wife lives Boo the dog, pictured above. Some blogs post photos of their brothers, others post photos of their dogs. Only TruePravda posts photos of a brother's dog.
On our way back, before we fully exited the South, my wife graciously relented to stopping at Krystal to eat. Krystal is one of those fast food places that elicits either love or hate as a response when mentioned to people — there are no in–betweens. For those of you who have no idea what Krystal is, you've just betrayed yourselves as Yankees (think White Castle of the South). Completely contrary to the health-food craze of our times, there's something about those slippery little miniature hamburgers that I just can't pass up.
That's all for this edition of "Travelogue." Join us again next time with more adventures from the road.
Posted by Jared Bridges |
Permalink
|
Comments (3)
2 August 2005
Travelogue: Indianapolis, IN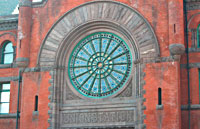 Over the weekend my wife and I had a brief stay in Indianapolis, Indiana. While we didn't see any formula one races, or score any Colts tickets, we did get to spend some much needed child-free time together, courtesy my in-laws. Here are my notes from the trip:
It doesn't take long after crossing the Ohio that you officially enter the Midwest. There's a marked difference in land usage and even terrain from Kentucky — there's no mistaking that you're in the breadbasket of the world. "Land spreadin' out so far and wide. . ." Well, you get the picture.
We made a stop in the pleasant town of Greenwood, IN so my wife could browse a famous quilting shop there. After my obligatory five minutes in a shop with way-too-much estrogen, I recused myself to the front porch of the store so I could read a book. One rather perceptive woman, upon entering the store said: "Here's a husband who is used to stopping at all the quilt shops with his wife — he knows just what to do!" Indeed.
Downtown Indianapolis seems almost oasis-like, surrounded by nowhere. I'm sure there are ample suburbs (I've seen a few on previous trips), but the contrast between the agrarian and the urban is striking.
Like many cities, Indianapolis has put a lot of money in to renovating its downtown area. Restaurants, cafes, sports venues, and interconnected shopping malls pepper the urban landscape of downtown and give the sense, at least that something is going on.
Also, like many cities, Indianapolis' many renovations do little to mask its thriving homeless population.
To avoid the hotel's pricey — and most likely tasteless — breakfast, we ventured over to Steak n Shake for our morning meal. I know that these restaurants are everywhere, but their coffee was quite remarkable. For a coffee novice like me, it was pure joy.
That's all for this Travelogue. Where will we be next time? I wonder. . .
Posted by Jared Bridges |
Permalink
|
Comments (1)
24 July 2005
Travelogue: The Great American Ballpark
Saturday night, my dad and I made a quick jaunt up I-71 to Cincinnati to watch the Reds play the Milwaukee Brewers. Here are my notes:
Watching two bottom-dwelling teams duke it out can almost be as exciting as watching two pennant contenders. In the case of the Reds and Brewers the absence of good pitching from either team made for a fun night with lots of runs scored. The Reds lost, but thankfully neither me nor my dad are die-hard Reds fans—although we did pull for them last night
If, for example, you were managing a baseball team with a struggling pitcher who has: 1.) already given up 4 runs, 2.) has loaded the bases, and 3.) has just walked in a run; it would be a good idea to call the bullpen before you let him pitch to the batter who already homered in the previous at bat. It might just save you a grand slam…
While it wasn't exactly a sellout crowd, the homeless people were out in full force as you walked from the parking lot to the stadium. Most were just sitting on the sidewalk with their hand-scribbled cardboard signs labeled "homeless." One man was a little more unconventional, holding up a sign that declared:


WHY LIE? I WANT BEER

Apparently, the "honest" approach didn't fare too well, as he only had about $0.75 in his collection plate.

The Great American Ballpark is a nice venue for a baseball game, and makes the old (now demolished) Riverfront Stadium feel like a paisley couch on shag carpet. The presence of future hall-of-famer Ken Griffey, Jr. made the trip appealing, but last night Griffey did what he's done since he's been to Cincinnati, which is virtually nothing.
Concessions have always been expensive at major league baseball games, but Cincinnati's prices almost rival movie theaters in their tourist-trappings. $9.25 bought me a Dr. Pepper and a hot dog called the Big Red Hot. Thankfully, the restrooms are still free.
That's all for this edition of Travelogue. Play ball!
Posted by Jared Bridges |
Permalink
|
Comments (6)
5 July 2005
Travelogue: The Ol' KY – TN
Because times of travel are typically atypical, I've decided that it would be a good practice to record here various observations from whenever I'm out in the highways and byways. The "travelogue" category of TruePravda will consist of notes from journeys both past and present.

The trip from Louisville, KY to Kingsport, TN takes just over 5 hours—when you're not driving with an infant. A seven-month old baby certainly adds a new dimension to a much-traveled route in the last few years. We stopped thrice on the way down, and thrice on the way back. When the baby needs to eat, the baby needs to eat. Not terribly bad.
Gas is cheap in Corbin, KY. I paid $1.97/gallon. I never thought I would call $1.97 cheap.
Corbin also sports a billboard featuring a larger-than-life headshot of an attorney. Beside him, in equally giant letters, are the words: DIVORCE $399 COMPLETE PACKAGE. So much for divorce being stigmatized anymore. I would have taken a photo, but it was too dark on the way back.
July 4th is a great time to drive at night. Starting at about dusk until we arrived home at 11:30 PM, there were fireworks erupting constantly. Everywhere you looked, whether to the left or right, colorful displays appeared in the sky. Fireworks are bigger money than I thought.
This trip's audiobook, of which we still have a few hours of listening to go, was Tom Wolfe's A Man in Full, narrated by the mesmerizing David Ogden Stiers. While Stiers could make the phone book sound interesting, Wolfe's ability to put the reader/listener into the characters' emotions is stunning. Can't wait to go on another trip just to finish this one.
The trip is fraught with landmarks. Worth mentioning is the mile-long Cumberland Gap Tunnel, the walled city of Pineville, KY, and the failed Phipps Bend Nuclear Power Plant Site, where construction was begun but never completed. Of course, the king of all landmarks on the trip is the church whose name is in the front yard in 8-foot tall letters: PREPARE TO MEET GOD. Some go to First Baptist, some go to Second Presbyterian, but only a few go to PREPARE TO MEET GOD. A photograph of this place is on my list of things to do.
That's all for the premiere edition of Travelogue. Stay tuned for more harrowing tales of travel.
Posted by Jared Bridges |
Permalink
|
Comments (4)
---