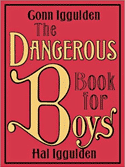 A visit to Borders bookstore over the weekend found me unable to resist picking up a copy of Conn and Hal Iggulden's new book The Dangerous Book for Boys. I first learned of the book a week or so ago when one of its authors, Conn Iggulden, gave an interview to The Colbert Report (you gotta watch the fake news to the real scoop on the world these days…). The interview intrigued me, but when I actually handled the book in the bookstore, I was hooked.
It's a book that teaches boys everything from how to choose a proper Swiss Army Knife, the essential works of Shakespeare, the greatest battles of history, how to make an electromagnet, to how to play chess. Here's the publisher's description:
The […] book for every boy from eight to eighty, covering essential boyhood skills such as building tree houses, learning how to fish, finding true north, and even answering the age old question of what the big deal with girls is.

In this digital age there is still a place for knots, skimming stones and stories of incredible courage. This book recaptures Sunday afternoons, stimulates curiosity, and makes for great father-son activities. The brothers Conn and Hal have put together a wonderful collection of all things that make being young or young at heart fun—building go-carts and electromagnets, identifying insects and spiders, and flying the world's best paper airplanes.
It is indeed a cornucopia of items that are ample food for a growing boy's curiosity.
Even the written style of The Dangerous Book for Boys is confident, and lacking in the wishy-washy tone of modern emasculated literature. For example, in the article on "Making a Bow and Arrow," the authors begin with these sentences:
At some point, you may consider making a bow and arrow. Firing an arrow can be immensely satisfying — not to hit anything, even, but just to see it fly and then pace out the yards.
The book's graphic design carries an old-fashioned feel that gives boys a sense of belonging to something older than themselves. It's a rugged clothbound that is conspicuously missing a dust jacket — this book is meant to be used.
I've already had a great deal of fun reading it, and I can't wait for my son to learn to read so he can take in the danger.
There's even a video promoting the book: