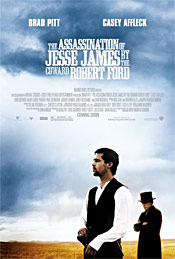 The Assassination of Jesse James by the Coward Robert Ford is the best western film of the 21st century, but there's a catch. It's three hours long. But, if you do like I did and take three days to view the DVD, you'll see its worth without giving up the better part of a day.
The cinematography is stunning (the use of the blurred-edge old-style glass of the period as "lens" for the story is brilliant), but the story is even better. It's a story of hubris, betrayal, and glory — and how a man obtains glory affects the way he enjoys it.
Though he's billed second, Casey Affleck steals the show. He is by far a better actor than his overtheatric brother Ben. He expertly plays the star-struck Robert Ford, whose youthful exuberance is matched only by his ominous sense of inadequacy.
Only slightly outdone by Affleck, Brad Pitt does a remarkable job with Jesse James. Pitt, like his character, fades into the background for the first half of the film. He then comes alive with a muted, knowing paranoia. Jesse James knows what's coming, but nevertheless keeps company with Robert Ford.
The thematic elements that pair an outlaw with the instrument of his doom are irresistible, and biblical motifs abound. Robert Ford is Judas to his flawed savior Jesse James, who is a wolf led to slaughter.
[8 out of 10]