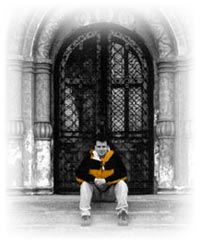 First things first: if you're wondering what in the world "TruePravda" means, read this early entry. With that cleared up, I suppose you're wondering a little about who I am.
My name is Jared Bridges. It's not a particularly common name. There are only a handful of us that show up when googling the name, anyway. My given name was somewhat problematic for me growing up. I'm often addressed as Jerry (most common), Jarret, Gerald, Derek, and even Jason on occasion (I still don't know where that one comes from). Even so, I'm rather happy with my name — though perhaps the happiness stems from the fact that I know people will have difficulty with it.
Enough silliness about names. You now know mine if you didn't before, and that's a good start. There are more important issues at hand to discuss, aren't there? Issues like, for example, where I live, and what I do all day, and whom do I know and for what purpose I write this blog. So, as we used to say as kids when we jumped our bikes off the homemade plywood ramp, "here goes nothing!"
---
Most days, savvy sleuths can find me working for a non-profit in Washington D.C. — however, I'll always consider myself an expatriate Tennessean. My blood runs orange, and which I can prove by degree. I've also sojourned in Louisville, Kentucky, where I studied at The Southern Baptist Theological Seminary, a stellar school that challenged me intellectually, spiritually, and physically (from lifting all the books). I graduated with a Master of Divinity in Theology, majoring in Biblical and Theological Studies.
---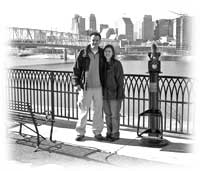 I now live in northern Virginia with my wife Lori, who survives my peculiar personality with peculiar grace. It was she who encouraged me to begin this blog back in the wilderness days of blogging in 2003. We were married in 2001 in Knoxville, TN, and have since welcomed four children, who keep our time filled with much joy and wonder.
So, here are a few of the answers you may have been seeking when you clicked the "About" link. I'll leave it to my posts to dispense any further information. It's more fun that way anyhow.