Last night we went to see the film Luther, the new movie about the 16th Century reformer Martin Luther. It's only playing in limited release, so we had to go to the old, run down cinema here in Louisville. Most of the kids in line behind us at the box office were there to see Texas Chainsaw Massacre. When we went into the theater, my wife and I were the only two people there until 10 minutes before it started, when finally about 20 people found their seats. Judging by all these markers, this had all the makings of a bad film.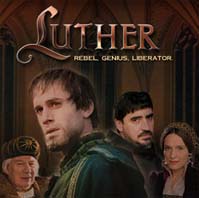 One hour and fifty-three minutes later, I could easily say that this was one of the best films I've seen all year—not that there has been much competition this year. The movie was historically accurate, and Joseph Fiennes did an unexpectedly good job as Luther. Peter Ustinov gave a likeable performace as Frederick the Wise, and the rest of the cast supported the story well.
One of the best things the movie does is to capture the cost of Luther's actions, alongside what was happening before Luther spoke out. I know I'm overly biased in recommending this film—after all, I'm a theology student, and I've sat in under Dr. Tom Nettles rousing lectures on Luther. All the same, this movie did stay true to Luther's theology, and the gospel is heard in the film. It's strange to see a film with a Christian message done so well. The last I can remember is Left Behind, oops—I mean Chariots of Fire.
I've seen several more negative reviews, saying that the film is boring, or places Luther in too positive a light. Thomas Hibbs, probably my favorite movie reviewer, argues that Luther is too dull. I believe though, that Hibbs is Catholic, and obviously wouldn't get as charged up regarding a film about a man who severely shook up the Catholic Church.
The only thing I can see that the movie suffers from is the fact that it has to cram so many events of Luther's life into so little time. Other than that, I highly recommend this historical, moving film about a man who changed the world.
8 out of 10—I will not recant!