Sometimes people just don't agree on what looks good and what doesn't. Such has been the experience of Kentucky's latest vehicle license plate. Take a look for yourself—would you want to drive around behind that ridiculous smiley-faced sun all day?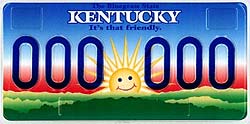 I didn't think so. Neither do many Kentuckians. A trend around Louisville is to put your favorite sticker over "Mr. Smiley's" face. Some were even so turned off by the plate that a contest was held to design a new one.
Just when it seemed that everyone was out to get Mr. Smiley, the plate has now won the 2003 Best License Plate Award from the Automobile License Plate Collectors Association. This is the biggest upset since Shakespeare in Love took the Oscar from Saving Private Ryan.
Now I just need to find a sticker to cover up that smug little Mr. Smiley on my car. Any suggestions?