Below is the front page headline of today's Washington Times: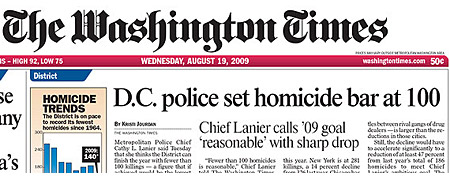 That's right: after 100 murders, you can breathe easy when visiting the nation's capital.
Think 100 is too high, or too low? Nonsense, says D.C. Police Chief Cathy L. Lanier:
"Fewer than 100 homicides is reasonable," Chief Lanier told The Washington Times. "We're targeting for under 100, and I think we can do it if we give everything we've got."

Last year, the city marked 100 homicides before the end of July, but police in the District and several other major U.S. cities are seeing declining or steady homicide totals this year.
As it turns out, murder is quite out of fashion this year across the land:
Los Angeles has recorded a 14 percent decrease in homicides from 234 last year to 201 this year. New York is at 281 killings, a 14 percent decline from 326 last year. Chicago has an 11 percent reduction at 258 homicides, down from last year's 290. Philadelphia's homicide total has declined by 10 percent, from 204 to 189. Baltimore is at 140 homicides – the same as this time last year.

But the decline of 25.4 percent in the District – which approached 500 killings in 1991 at the height of the crack-cocaine epidemic that spawned gunbattles between rival gangs of drug dealers – is larger than the reductions in those cities.
Good to see we're getting down to more reasonable numbers.