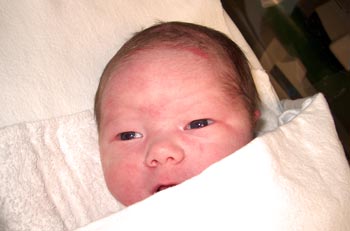 Please welcome to the world Cooper J. Bridges, our firstborn. He burst onto the scene early this morning (12:49 AM) in the way of Ceasar, and he has already conquered our hearts. My wife, Lori, is doing fine after a herculean effort that makes me wonder which really is the weaker sex…
Cooper is a big boy, weighing in at eight pounds, nine ounces, and 20.5 inches long. What a miracle of God! Praise Him. I'm so happy I can think to write but little now, but I'm sure there will be more words (and photos) to come.
I just thought I'd post this while I ran home to shower before returning to the hospital. Needless to say, blogging will be light the next few days—but the comments on this post are open 24 hours!