Recently I had the chance to travel to a place I have been many times throughout my life: the Gatlinburg/Pigeon Forge area of Tennessee. What follows are my notes from the trip, with a couple of photos thrown in for good measure.

Gatlinburg
Nestled adjacent to the Great Smoky Mountains National Park is the tourist city of Gatlinburg, TN — home to wacky museums, haunted houses, tacky airbrushed T-shirts, mountain taffy — and my personal favorite, Hillbilly Golf. In his book A Walk in the Woods, which chronicled his hike of the Appalachian Trail, Bill Bryson summed up Gatlinburg perfectly in just one word: appalling.
If you don't believe Bryson, consider this photo I snapped of a typical Gatlinburg T-shirt shop: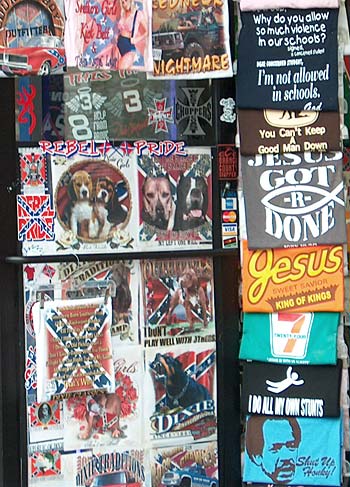 Quite the selection from a Gatlinburg T-shirt peddler.
Notice that no stone is left unturned. From "Rebel Pride" shirts (replete with attack dogs), to Jesus "Got R Done," to George Jefferson "Shut Up Honky!" shirts, Gatlinburg's T-shirt vendors aim to please the redneck dog-lover pop-spiritualist in us all. Ah, and don't forget the "#3 with angel wings and halo" designs.
Yet even amidst its veneer of cheapness, Gatlinburg has a certain charm. The entire city covers little more than a square mile, and can be walked easily. The surrounding mountains inspire awe, even when serving as the backdrop for Cooter's Place. In spite of all its tackiness, Gatlinburg has managed to retain a hint of the feeling of being in an alpine mountain hamlet.

Pigeon Forge
While Gatlinburg may still have an ounce of charm, Pigeon Forge has nary a milligram. If you're traveling to the Great Smoky Mountains by interstate, you're more than likely doomed to drive through Pigeon Forge. Home of the Dolly Parton's Dollywood amusement park, this city consists of little more than a singular strip of nothing but outlet malls and "attractions" of every flavor.
The traffic, limited to such a narrow strip, is chronically horrendous. In fact, the traffic lights are all marked by number so hotels and attractions can use them as landmarks when giving directions.
There once was a time, roughly 20 years ago, that Pigeon Forge was Pigeon Forge and that was it. Nowadays, the "strip" has exceeded Pigeon Forge proper and stretches all the way through neighboring Sevierville and all the way to Interstate 40.
It's roughly 14 miles from I-40 to the end of the Gatlinburg strip. I chose to enter Pigeon Forge via I-40 because I thought Knoxville traffic might be bad at 4 PM on a Friday. I chose poorly. Traffic was backed up almost to I-40, and it took me 2 hrs to go 14 miles. Everyone and their grandmother were headed to Pigeon Forge.
I hope to never again set foot in Pigeon Forge. If you ever see me there again, you can be sure I've lost my mind. Go ahead and order the straight jacket, and I'll go without a fight. Pigeon Forge is dead to me.

The Great Smoky Mtns National Park
Although I love the place and have been there many times, we didn't get to spend much time in the park due to the brevity of our stay. We did get to take our son on his first-ever hike, a short 1.1 mile nature trail (is it considered hiking if he didn't actually walk any?). We didn't see any bears, but I did notice something peculiar at the park's visitor center: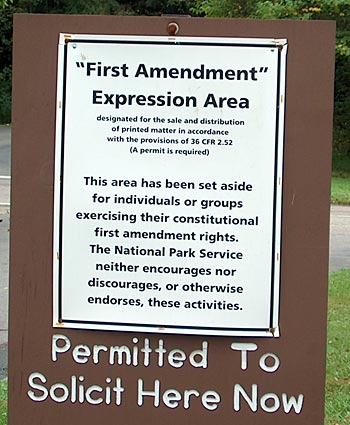 The National Park Service, guardians of the First Amendment.
Yes, you read it right. Never one to take sides, the National Park Service neither encourages nor discourages the exercise of free speech. If you want to speak freely, you can, but you need a permit. Go figure.

Townsend
Ah, Townsend. Townsend, TN is the anti-Pigeon Forge and anti-Gatlinburg — for now. On the opposite side of Gatlinburg from Pigeon Forge, Townsend is still largely devoid of people, outlet malls and attractions. Lodging is available, and until it is discovered by the airbrush T-shirt mafia, it is one of the better places to stay if you want to enjoy the beauty of the Smokies.
We stayed in Townsend for a night in a cabin, where I watched a raccoon attempt to break in to the locked garbage bin. At least I think it was a raccoon. All I saw in the dark with my flashlight were two eyes…

Though it may not have sounded like it, it was fun trip after all. I've found that traveling can always be fun — especially in retrospect. The next time you're in a bad travel situation, think of it as another story to tell. I'll spare you anymore pollyannaish sentiments. That's all the for this rather lengthy edition of Travelogue. I'll see you on the road.