This post will introduce a new occasional series called "In My Own Backyard," in which I will explore the odd, quirky places in the areas in which I've lived. You never know what you'll find in your own backyard…
---
I had driven past it countless times, but had never really noticed just what the place was. Aside from the sign, it was just another nondescript house whose location on a busy road warranted its transformation into a place of business. The eastern part of Louisville boasts hundreds of such places, usually occupied by a law firm or a doctor's office.
One day, I happened to be stopped in traffic next to the building, and I did a double-take when I saw that the sign read "Cremation Society of Kentucky." The fact that there are entire societies devoted to the incineration of corpses was enough to throw me for a loop.
I imagined a "society" member about to go out for a meeting:
"Honey," he would say to his wife, "I'm gonna be out a little late tonight — I've got a meeting."
"Are you going to be out playing poker with the boys again," his wife would reply, "how many times have I told you…"
"No, no, no," he would interject, "I've got a Cremation Society meeting. Tonight we're discussing the topic 'How hot is too hot?' and I really want to go."
As if the place couldn't get any more odd, on a recent drive by the building I saw smoke rising. I know what you're thinking. I was thinking the same thing. It turned out, however, that the source of the smoke was a tiny charcoal grill.
If you don't believe me, take a look at the photos I recently snapped: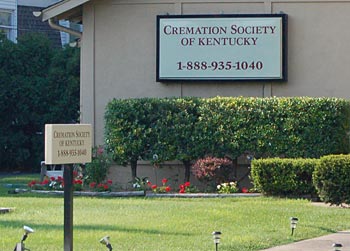 Just down the street from Wal Mart and Papa John's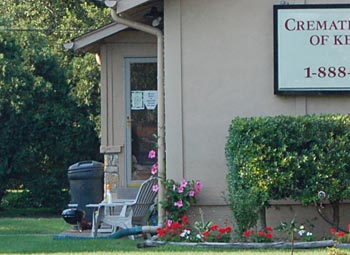 Wait a minute! What's that there in the corner?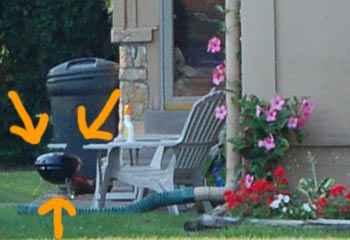 Just what are they flame-broiling here?
A charcoal grill. On the grounds of the Cremation Society. That's one barbeque I'd have to pass on, free food or not.