I hope everyone has had a happy Thanksgiving, and one more thing you can be thankful about is that I've finally redesigned TruePravda from the ground up.
My last full redesign was two years ago. I made a few gradual aesthetic improvements during that time, but nothing major. This design is the fourth incarnation of the blog since it began in April 2003. The previous version looked like this: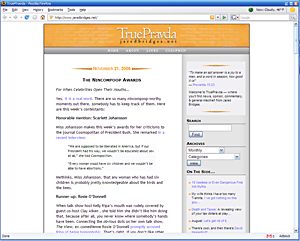 I've still got a few kinks, improvements, and addtions to iron out, but that's half the fun. Let me know if you see anything that's awry. One major change is that "On the Side" items will now show up in the main RSS feed, as well as in a search. The site is also a little more mobile-device friendly now.
Coming soon is a photo gallery — even sooner than that is a major announcement tomorrow.
Stay tuned, and enjoy the new design…