23 November 2006
Link
How to balance a quarter on a $20 bill, cause we all need to learn magic tricks for the holidays…
Posted by Jared Bridges |
Permalink
|
Comments Off

on Link
Redesign 2006
I hope everyone has had a happy Thanksgiving, and one more thing you can be thankful about is that I've finally redesigned TruePravda from the ground up.
My last full redesign was two years ago. I made a few gradual aesthetic improvements during that time, but nothing major. This design is the fourth incarnation of the blog since it began in April 2003. The previous version looked like this: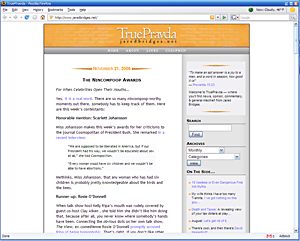 I've still got a few kinks, improvements, and addtions to iron out, but that's half the fun. Let me know if you see anything that's awry. One major change is that "On the Side" items will now show up in the main RSS feed, as well as in a search. The site is also a little more mobile-device friendly now.
Coming soon is a photo gallery — even sooner than that is a major announcement tomorrow.
Stay tuned, and enjoy the new design…
Posted by Jared Bridges |
Permalink
|
Comments Off

on Redesign 2006
21 November 2006
The Nincompoop Awards
For When Celebrities Open Their Mouths…
Yes, it is a real word. There are so many nincompoop–worthy moments out there, somebody has to keep track of them. Here are this week's contestants:
Honorable mention: Scarlett Johansson
Miss Johansson makes this week's awards for her criticisms to the journal Cosmopolitan of President Bush. She remarked in a recent interview:
"We are supposed to be liberated in America, but if our President had his way, we wouldn't be educated about sex at all," she told Cosmopolitan.

"Every woman would have six children and we wouldn't be able to have abortions."
Methinks, Miss Johansson, that any woman who has had six children is probably pretty knowledgeable about the birds and the bees.
Runner-up: Rosie O'Donnell
When talk-show host Kelly Ripa's mouth was rudely covered by guest co-host Clay Aiken , she told him she didn't like him doing that, because after all, you never know where somebody's hands have been. Connecting the obvious dots on her own talk show, The View, ex-comedienne Rosie O'Donnell promptly accused Ripa of being homophobic. That's right, if you don't like other people touching your mouth, you're bound to be homophobic these days. [Video]
Winner: Michael Richards
When the former Seinfeld star was heckled on stage during a stand-up comedy show, he went into a racist, Mel Gibson-like tirade. He went, in other words, bezerk. Then, he showed up on the David Letterman show to give a really bizarre apology. When watching it, you almost expect him to say, "These pretzels are making me thirsty." One can hardly blame some in the audience for laughing.
That's all for now, but once word gets out of this prestigious award, competition will be fierce. Stay tuned.
Posted by Jared Bridges |
Permalink
|
Comments Off

on The Nincompoop Awards
20 November 2006
Ted Koppel's most dangerous nation
Last night's Ted Koppel Discovery Channel special on Iran was both interesting and annoying. The former ABC Nightline host took a camera crew inside the charter member of the Axis of Evil, and produced the two-hour documentary, "Iran: the Most Dangerous Nation."
The annoying part, of course, was the oozing moral equivalence with which Koppel felt he must litter a documentary aimed at Americans. After seeing a large group exiting a mosque chanting "death to America," Koppel remarks, "we are prisoners of our stereotypes of each other–they do it, we do it."
Sure, Iran–US relations have had sore points over the last 50 years, but this is a country in which children on their first day of school are taught to chant "death to America." To say that we view each other with this same spirit of vitriol is to make a mockery of the term "equivalence." If you don't believe me, just imagine the uproar — both international and national — if American churchgoers chanted "death to Iran" as they left the sanctuary each Sunday.
The danger within Iran is seen everywhere — from Ayatollah Mahdi Hadavi Tehrani's audacious claim that America benefited from 9/11, to the concern by Massoumeh Ebtekar (the "Sister Mary" translator from the 1979 hostage crisis) over President Bush's religious views, as if Iranian Prime Minister Mahmoud Ahmadinejad's religious views were of no consequence.
There were some bright spots. Like the one person Koppel interviewed who said he liked President Bush (I'd like to see a follow-up on that guy…). And the over 70,000 blogs which operate out of internet-censored Iran (many are listed here). Oh yeah — there was also the kid who liked American music. See, they don't really hate us after all…
Koppel's conclusion, which abruptly emerges in the last minute of the documentary, seems to be that yes, they're bad, but we're bad too. Sanctions haven't been working. Sure there is the military option, but what we really need is to go talk to the Iranians like Koppel did.
To be fair, Koppel did ask a few tough questions to some key Iranian voices (see videos here). But it seems to me awfully naive to think the buddy-buddy style that Koppel uses to get in to the country and get good interviews should be applied to foreign policy.
Posted by Jared Bridges |
Permalink
|
Comments Off

on Ted Koppel's most dangerous nation
18 November 2006
Flushing the Commode-doors
After a one-year lapse, the annual tradition of vandalizing Vanderbilt continues. Intramural games are never better than in November.
For a game I didn't get to watch or listen to, the Tennessee-Vanderbilt certainly looked exciting from the ESPN gamecast perspective. Lots of orange lines and arrows moving back and forth. I almost gave in and paid $11.95 to watch the game via the internet. I may have to cave in and try that next weekend…
Posted by Jared Bridges |
Permalink
|
Comments Off

on Flushing the Commode-doors
15 November 2006
If I watched trash TV…
…this is how I would watch it.
Posted by Jared Bridges |
Permalink
|
Comments Off

on If I watched trash TV…
11 November 2006
Pigged Out
Were I to graph the Volunteers 2006 season, the hills and valleys in the graph would warrant a 4-wheel drive to navigate. From looking like a well-oiled machine against Georgia, to being rendered completely ineffective by Arkansas tonight.
Granted, Arkansas is hot right now, but it didn't even appear that the Vols put up much of a fight. If anything, I hope this game makes certain that Tennessee's guard isn't down for the next couple of weeks against Vanderbilt and Kentucky. Warden Fulmer certainly has his work cut out for him.
Sigh…
6 November 2006
Why I'm not voting in this Tuesday's election (it's not what you think…)
I'm not voting on Tuesday.
Why am I sitting this one out? If you believe various media, pundits, and politicians, you might think that it's because as an evangelical Christian, I'm disillusioned with the Republican party's failure to deliver on a number of important issues. Therefore, I'm staying home from the polls this year.
Or, maybe it's because of the conflagration of scandals that have beset the anti-left as of late. Let's see what we have to work with:
The Rep. Mark Foley congressional page scandal
David Kuo's revelation that Republican elites disdain evangelicals
The Jack Abramoff scandal
The Ted Haggard gay prostitute scandal
The Aaron Burr — Alexander Hamilton duel
After all, I am one of those fickle evangelicals who sits at home on election day playing rock-paper-scissors in order to decide whether or not to go vote. Surely one of these scandals has convinced me to stay home. Right?
Or maybe it's just that I'm not that into civic-minded things and need MTV to come "rock me" into voting?
All the above reasons are, of course, wrong. The simple fact is that, being a new resident in Virginia, I missed the registration deadline by a couple of days. I registered within a black-out period which makes me ineligible to vote in this week's election. The sad thing is that I would have been eligible the first time I went to the DMV, but the Social Security computers were down. Unable to get my license that day, it didn't occur to me that I may have been able to still register to vote. But I digress.
The bottom line is that I have to sit this one out, and it is a sore point with me. It's like being on the disabled list when the rest of your team is out playing for the championship. So to continue with the sports analogy, I leave you, my readers, with this exhortation:
Go out and win one for the Gipper.
5 November 2006
Cooked Cajun Style
Tough game against a gritty LSU team. The Vols lost this one the old fashioned way: they were outplayed. Do I think a healthy Erik Ainge would have made a difference? Yes. Do I think a healthy Ainge would have won the game? I doubt it.
To add insult to injury, it looks like three Tennessee players, including Arian Foster were arrested after a nightclub "altercation" early Sunday morning. If coach Fulmer doesn't summarily dismiss these guys from the team, I'm officially withdrawing all support for the seasoned head coach. Not that my support is worth anything, but Fulmer is going to continue having problems like this unless he deals with it seriously.
I don't care how good you are, the only time a criminal should wear an orange uniform is in prison.
1 November 2006
Firefox 2.0's Spelll Checkur
I've been using Firefox 2.0 since its release a couple of weeks ago and I'm thrilled that it finally includes a spell checker for form fields. It's the feature I've been lamenting the abscence of for a long time, and I'm glad to see its incloosion in a browser.
Now my posts are certain to have less spelling errurs in them. It doesn't check grammer, only spelling.
Upgrade your Firefox now. You are using Firefox, aren't you?
Posted by Jared Bridges |
Permalink
|
Comments Off

on Firefox 2.0's Spelll Checkur
---